Including wallpaper in a home or business can be a DIY project, but we often recommend professional installation to achieve a smooth and consistent look. Wallpaper installation can be a challenge with unexpected angles, curves, and cutouts. It is almost always best to spend a little extra and be guaranteed a beautiful finished product.
According to Chuck Waltman of Houston Home Remodeling Pros, for pros and installers, we know how important reliable products are for a successful installation. What are some specific requirements you need to consider when choosing the best type of wallpaper paste for your project? Are you completing a residential or commercial project? Once you have your chosen wallcovering in hand, which wallpaper paste is the best adhesive for your project?
Needs and Requirements of Residential and Commercial Projects
Most projects will be covering new drywall, existing painted drywall, or textured drywall. The main difference in requirements for installation will be the anticipated daily exposure to traffic (how often the wallpaper will need to be cleaned), durability, design or style desired, and how often the wallcovering will need to be changed out to refresh the style.
In a residential application, a change in design may be desired every couple of years with the minimum being every time the home sells. The future buyer will be glad to know you took their needs into consideration when you installed your wallpaper. Just as important as the design of the wallcovering you choose is the wallpaper paste you use. Certain pastes are formulated to provide easier removal when it is time to redecorate. 
Wallcoverings that are strippable or peelable should be considered for most residential applications. This will include solid vinyl and vinyl-coated paper. These wallpapers are manufactured with durability in mind, making maintenance easy. 
Solid pre-pasted vinyl wallpapers are great for residential applications because many are peelable, meaning that when it comes time to replace the wallpaper, the top layer peels off, leaving a paper backing that comes off easily with the help of a remover.
Another type of wallcovering that is an excellent choice for residential use is wallpaper with a non-woven backing. Non-woven backings are quickly becoming the preferred base material for wallpaper. Manufactured from a fibrous material, these wallpapers can be easier to install and easier to remove! Wallpapers with non-woven backings are designed to remove in full strips, leaving the wall clean and smooth. 
In older buildings and walls with texture, liner paper can be applied t to help cover imperfections in the wall surface. Liner paper is typically installed horizontally. This method of horizontal installation is known as "railroading". This helps eliminate the chance that seams on the top layer of wallcovering match up with seams in the liner paper.
For applications that require covering a rough or bumpy surface — such as textured drywall or sealed wood paneling, liner paper plus a paintable, textured wallpaper is an excellent choice. Liner paper help hide problem surfaces underneath and a top layer textured wallpaper helps further hide imperfections
For commercial applications, many of the same concerns that are dealt with in a residential setting will apply, but the material must be even more durable. 
Unpasted fabric-backed vinyl is generally the best option for commercial projects. These wallpaper designs have a durable vinyl facing that helps protect the wall from bumps and scratches. It's the best option if you want to hide imperfections on the wall. In contrast to the standard 21-27" width for residential use, commercial wallcoverings typically in 54" widths. 
ROMAN – The No. 1 Contractor Brand
A good wallpaper installation begins with selecting the correct adhesive for your job. Roman makes a full line of adhesives for every application.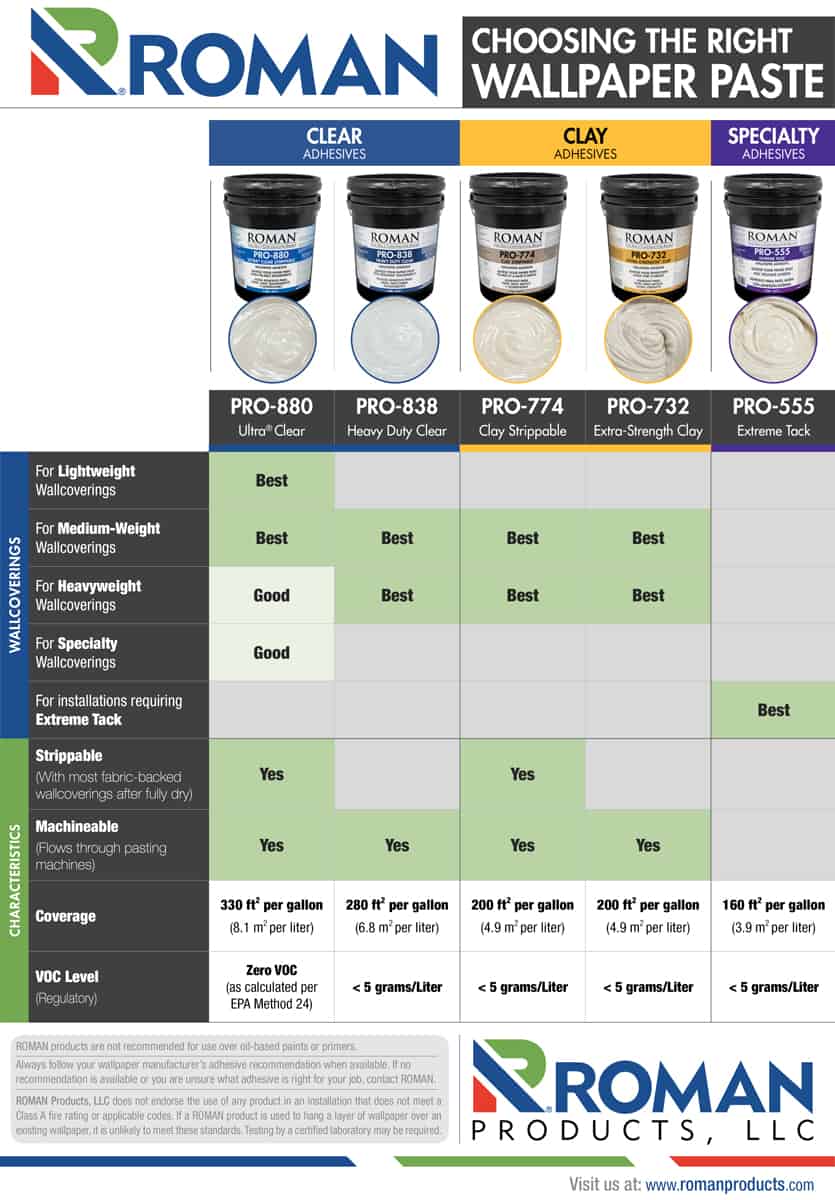 CLEAR ADHESIVES
North America's best-selling wallpaper paste, PRO-880 is formulated to install most types and weights of wallpaper — including commercial weight. Examples include:
Fabric-backed wallpaper
Solid vinyl and vinyl-coated
Non-wovens
Grass Cloth
Paintable/Textured wallpaper
Liner paper
Heavy-weight commercial vinyl wallpaper 
PRO-880 Highlights:
Strippable with most fabric-backed wallcoverings
Flows easily through paste machines
Dilutable for use with lighter weight wallcoverings
Has exceptional wet-tack
Non-staining and cleans up easily with water
Formulated to install medium weight to heavyweight wallcovering such as commercial 54" vinyl and wall carpet.
PRO-838 Highlights:
Works well with paste machines
It is non-staining
It cleans up easily
CLAY ADHESIVES
Formulated to install medium weight to heavy weight wallcoverings. Ideal for commercial installation projects.
PRO-774 Highlights:
It has a smooth, thick consistency
It offers maximum wet-tack 
It is ideal for use in pasting machines — but can also be applied with a roller
This is strippable with most fabric-backed wallcoverings
Formulated with natural clay – Easy to see and easy to clean when installing
UNIVERSAL ADHESIVE
Ideal for hanging lightweight to medium weight wallpaper such as solid vinyl, vinyl-coated and non-woven wallpaper. This product is excellent for homeowner use.
PRO-543 Highlights:
Extended open-time it allows extra time to match patterns and align seams
It has added slip for easier positioning on the wall
It provides excellent adhesion
It is very forgiving, allowing easy water clean-up
PRO-880 Ultra Clear – Your Best All-Around Choice 
PRO-880 Ultra Clear Strippable can handle a wide variety of both residential and commercial wallpaper paste needs. From the super-lightweight wallcoverings to the heavy-weight vinyl and specialty wallpapers, PRO-880 gives you the option of hand-rolling the paste for the DIY'er or using a pasting machine for commercial installations. Used by thousands of installers across North America, PRO-880 will give you the professional results that you demand. 
Contact us today to find out how our complete line of wallpaper adhesives and removers can help you finish your next project.