By drawing the eye to one focal point, an accent wall can provide a dash of style that works effectively without requiring a complete redecoration of the entire space.
Although you can create an accent wall by merely applying paint, wallpaper greatly expands the range of options you have for creating eye-catching patterns. For those who are interested in how to do a wallpaper accent wall, we've put together this brief overview of the process to guide you.
Benefits of an Accent Wall
Why bother with an accent wall? There are several reasons:
Visual appeal – A well-designed modern accent wall just makes the place look better, and can even boost the market value of your home.
Inexpensive style upgrade – An accent wall will cost substantially less than a complete room makeover.
DIY-friendly – An accent wall makes a good beginner-level project for someone who wants to gain some experience in hanging wallpaper.
Easy to replace – You have plenty of freedom to experiment with your accent wall—if it's not working out for you, it's easy to strip off the wallpaper provided that you've used high-quality primer (like ROMAN's).
Accent Wall Tips
For best results, you need to do a little planning before you begin hanging your wallpaper. Here are a few considerations you need to work out while you're mapping out an accent wall.
Pick Your Wall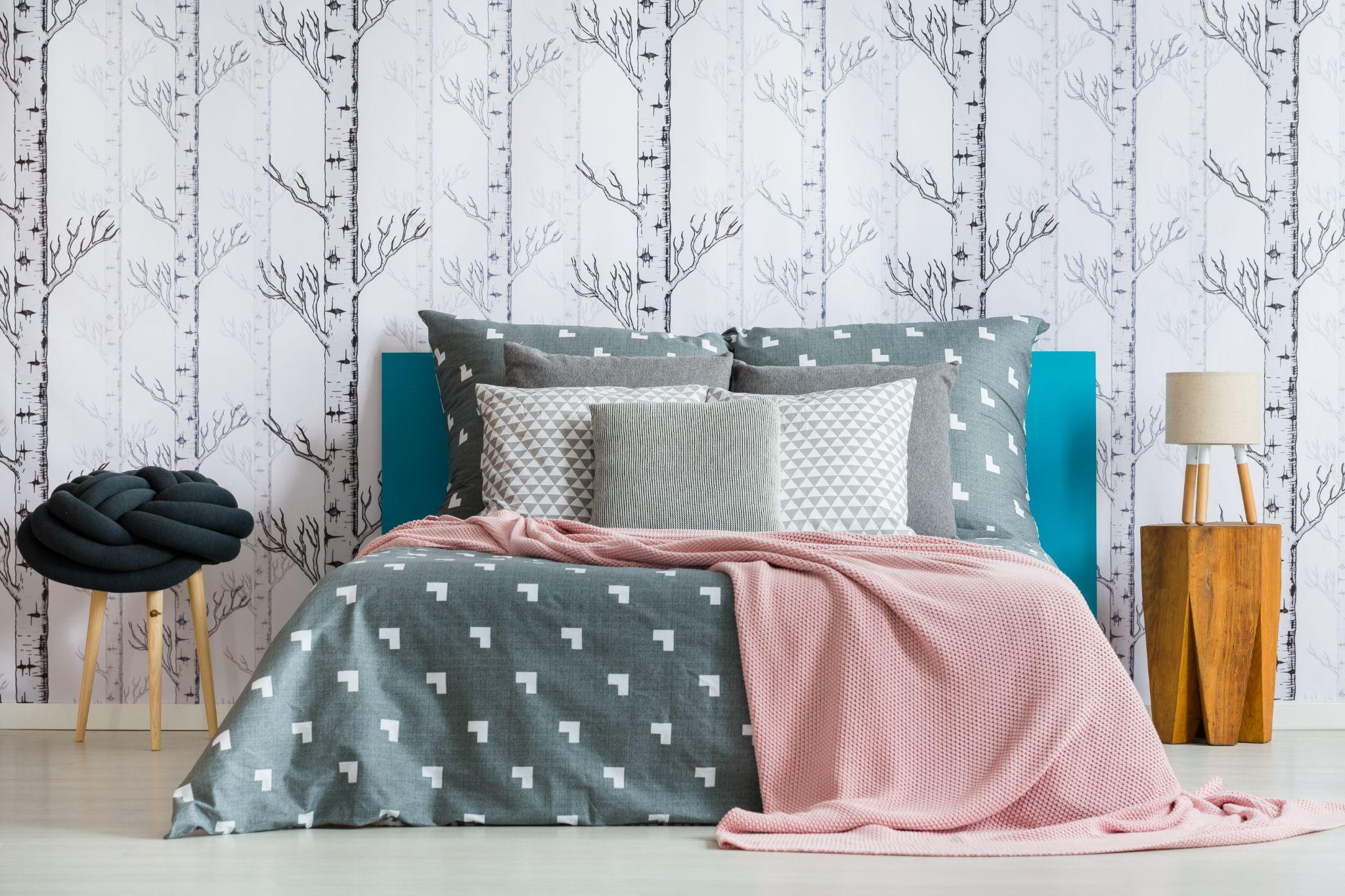 Most design specialists will tell you that it should be just one wall, not two—adding a second accent wall can either conflict with the other or give your room an unfinished look. If you really want two accent walls, though, it's best to have them on opposite sides of each other.
Which wall should be the accent wall? That depends on your preferences and the existing look of the space, but a good option is to select the wall that you see first when you walk through the entrance. In many cases, this will be the back wall of the room. When you're working with a bedroom, it's generally considered ideal to put the accent wallpaper on the wall behind the headboard.
Another option is to select a plain wall with few or no features on it—turning this into your accent wall will immediately boost its visual appeal.
Many homeowners prefer to select a wall with windows for their accent upgrade. This is certainly a workable option, but be sure that you consider what your wallpaper will look like when sunlight is coming through the windows. Bright sunshine can distort the visual impression you want to create with your wallpaper. Also, keep in mind that aligning wallpaper around windows can be trickier than working with a plain wall, especially if you have no installation experience.
Pick Your Wallpaper
This is really up to you. One of the advantages of wallpaper is the huge array of colors and patterns available, so there's certainly no shortage of possibilities you can explore. But you should consider what kind of visual effect you want to produce when visitors enter the area.
Interested in a dramatic look? Choose a wallpaper with a design and color that contrasts with the rest of the room. Because you're applying wallpaper to just one side of the room, you can go wild with the design. You can even select the kind of bright, elaborately patterned wallpaper that would seem garish or overwhelming if it covered the entire room.
On the other hand, if you'd like a more restrained look, you could choose a wallpaper design with a background color that matches the paint on the other walls. This creates a sort of fluid appearance that can be quite restful. Curtains with this background color are also good for complementing your new wall design. If you have white walls, you may wish to paint them with neutral colors to avoid clashing too harshly with your accent wallpaper.
Pick Your Tools
In addition to your wallpaper, you need to gather all the accessories you need to create your accent wall. This includes your rollers, brushes, scraper, stepladder, level, and cutting tool.
Remember that you can get high-grade wallcovering adhesives and primers right here at ROMAN Products. The type of primer you should select depends on your wallpaper and the surface on which it is to be applied. No matter what kind of requirements apply to your installation, you can find a suitable low-odor, no-splatter primer in the ROMAN catalog.
If you need to remove existing wallpaper—and it's not wise to leave it on—you can also select from our inventory of adhesive removers and related solutions.
Installing Your Wallpaper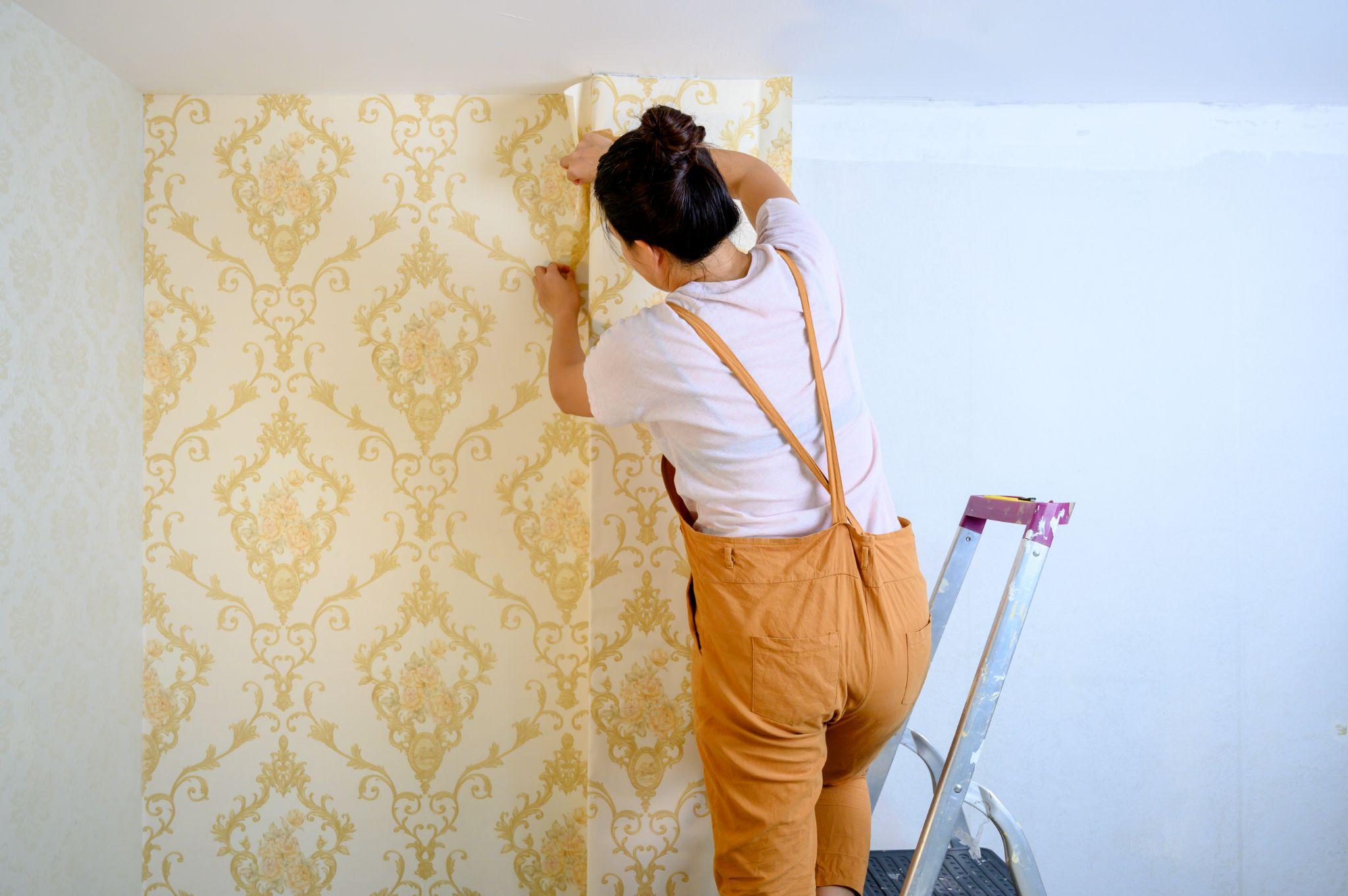 Now that you have all your tools and accessories, you can hang the wallpaper on the surface you have chosen for this project. You should treat your accent wall the same way you would any other wallpaper installation—you shouldn't attempt to take shortcuts merely because you're dealing with just one wall. Taking the time to install your wallpaper properly can save you a considerable amount of trouble later.
Create a Smooth Surface
You need to remove all the objects and blemishes on the wall: outlet covers, flaky paint, nails, uneven spots, and other imperfections. You can fill in holes and caps with paste. The goal is to make the wall as flat and smooth as possible. Sandpaper is helpful for rough spots.
Clean the Wall
Warm water and vinegar is usually all you need to clear away all the dirt and dust. Let the wall dry completely before you proceed to the next step.
Apply the Primer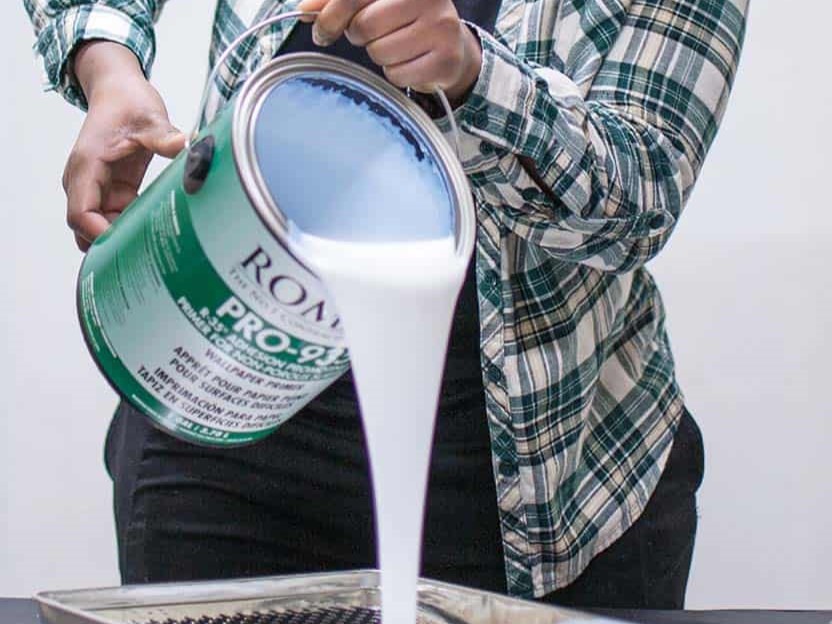 It's a good idea to test your ROMAN wallcovering primer before applying it; you can do this by putting a small amount on a tiny, inconspicuous area on the wall and letting it sit for 24 hours to see if it looks all right. After this, you can put on a full coat of primer with a brush, roller, or spray system, making sure to follow the provided directions. Be aware that ROMAN primers should be applied only if the room temperature is above 60º F. Remove any excess primer and let the coat dry for 24 hours.
Wash the Wall
Before applying the wallpaper, wash the wall one last time with a non-abrasive cleaner. You want the surface to be as clean as you can get it, as even seemingly insignificant amounts of dirt can affect wallpaper adhesion. Allow 24 hours to dry.
Hang the Wallpaper
Apply the wallpaper to the wall, again making sure to follow the manufacturer's directions. As a general rule, you should start in the middle of the wall, using your level to ensure that the wallpaper is installed in a straight line. Careful placement of this initial strip will help you install the rest of the wallpaper correctly. For more detailed accent wall tips, you can always consult our handy infographic.
Choosing your wallpaper accessories from ROMAN's large product inventory can aid enormously in taking the stress out of the installation process. To learn more about our labor-saving products, feel free to search our website or give us a call at 708-891-0770.