Wallpaper can have a big impact on a space, adding style, depth, and a richness that's simply not possible with monotone paint. Today there are more styles, patterns, and textures than ever, from natural grasscloth to metallics to animal motifs.
And the once-dreaded process of installing wallpaper is now a snap, thanks to advances in wallpaper materials and wallcovering adhesives.
If you're curious about when wallpaper was first used and who invented it, strap in for a brief history lesson. We're going to unpack the origins of wallpaper and how it has evolved over the years—both as a practical décor element and as a vehicle for artistic expression.
When Was Wallpaper Invented?
Credit for the first wallpaper goes to the Chinese, who apparently began hanging decorated rice paper on their walls as far back as the Qin Dynasty.
They kept their new invention under wraps until around the 12th century, when wallpaper started to spread West via the Silk Road. By the 1600s, it was common in Western Europe.
Before the introduction of paper wallcoverings, Europeans adorned their walls with woven tapestries and leather, both for their aesthetic appeal and insulation properties.
But these items were incredibly expensive and time-consuming to produce, which meant only the wealthiest could afford them.
During the Renaissance, wallpaper was developed as an alternative to these costly luxuries. The earliest wallpaper varieties mimicked fabrics like damask and were used on walls and as decorative liners for armoires and chests.
Block-Printing Heralds a New Age of Wallpaper
The advancement of block-printing technology in the 16th century made wallpaper more affordable. Artists would engrave wooden blocks with patterns inspired by expensive tapestries and fabrics and use ink to transfer the image onto paper. It's a simple technology that is still used today.
Block-printed wallpaper became a relatively inexpensive way to cover cracks, stains, and other imperfections on walls, which made it popular among the poorer classes.
In the early 17th century, the Chinese began printing brightly colored rice paper panels with ornate designs featuring flowers and birds.
Known as chinoiserie, these artistic designs soon became all the rage in Europe. They were especially prized in England, becoming a hallmark feature of the English country house.
Chinoiserie dominated the luxury wallpaper market for the next century. European knockoffs quickly sprang up, but authentic imports were the most highly prized.
Flocked (or embossed) wallpaper also emerged onto the scene in the 17th century. These textured wallcoverings were originally made by applying fuzzy waste material leftover from the woolen industry to colored paper. The result was a richly textured surface that imitated crushed velvet.
Wallpaper had become so popular by the early 1700s that forgery and cheap imitations were becoming an issue. By 1806, forging wallpaper had become a crime punishable by death.
The Industrial Revolution Brings Mass Production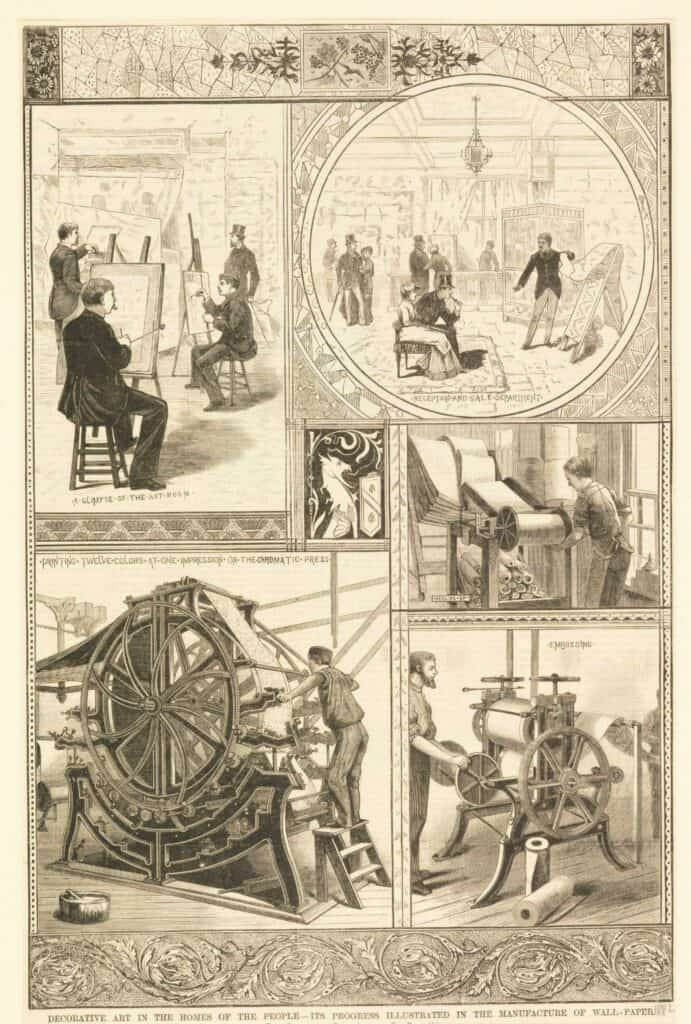 In the 18th and 19th centuries, artists experimented with ever-more detailed patterns and design, including elaborate landscapes and murals depicting topical scenes. But nothing could have prepared them for the technological changes on the horizon.
The Industrial Revolution brought massive changes to production. By the mid-1800s, steam-powered printing allowed papers to be printed quickly and inexpensively. This expanded the market for wallpaper and made it affordable for nearly everyone.
Meanwhile, the development of synthetic dyes vastly improved the number of colors available (from eight in 1850 to twenty in 1875).
These advancements allowed for fast production and incredibly realistic designs. Wallpaper could now be used to simulate different finishing materials, from woven tapestries to Venetian plaster and marble.
But there was pushback. The Design Reform movement sprung up to challenge mass-produced wallpaper designs. The "reformers" were put off by what they saw as the lack of artistic integrity and tastelessness of industrial production.
Among them was designer William Morris, considered the father of the Arts & Crafts movement. In his long career, Morris created more than 50 wallpaper designs—mostly depicting flora and fauna—using pre-industrial production methods. He remains one of the most influential wallpaper designers in history.
The 20th Century: Wallpaper Through the Decades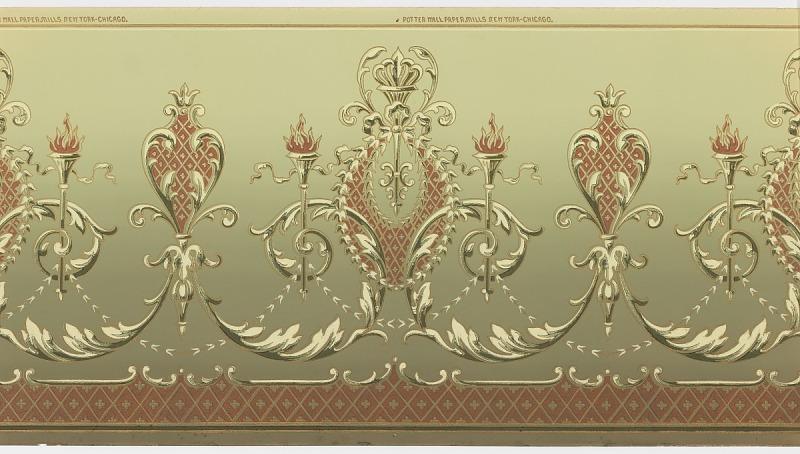 While the Victorian Era is often considered wallpaper's "Golden Age," it remained popular well into the 20th century.
In the 1920s, wallpaper design moved away from the ostentatious floral motifs of the Victorian period, replaced largely by elegant bird and branch motifs. In the 1930s, layered floral motifs on top of abstract patterns were popular, a nod to the Art Deco movement.
In the 1940s, the glitz and glam of earlier decades gave way to traditional florals, reflecting the pared-down wartime ethos. The 1950s brought a return to prosperity—and a near-obsession with futurism. Bold, abstract wallpaper patterns were popular in the post-war years.
In the 1960s and 70s, bold, bright colors and geometric patterns reflecting the Mod style dominated, while the frenetic patterns of the 1980s gave way to more subdued designs and neutral color schemes in the 90s and 2000s.
Wallpaper in the Modern Era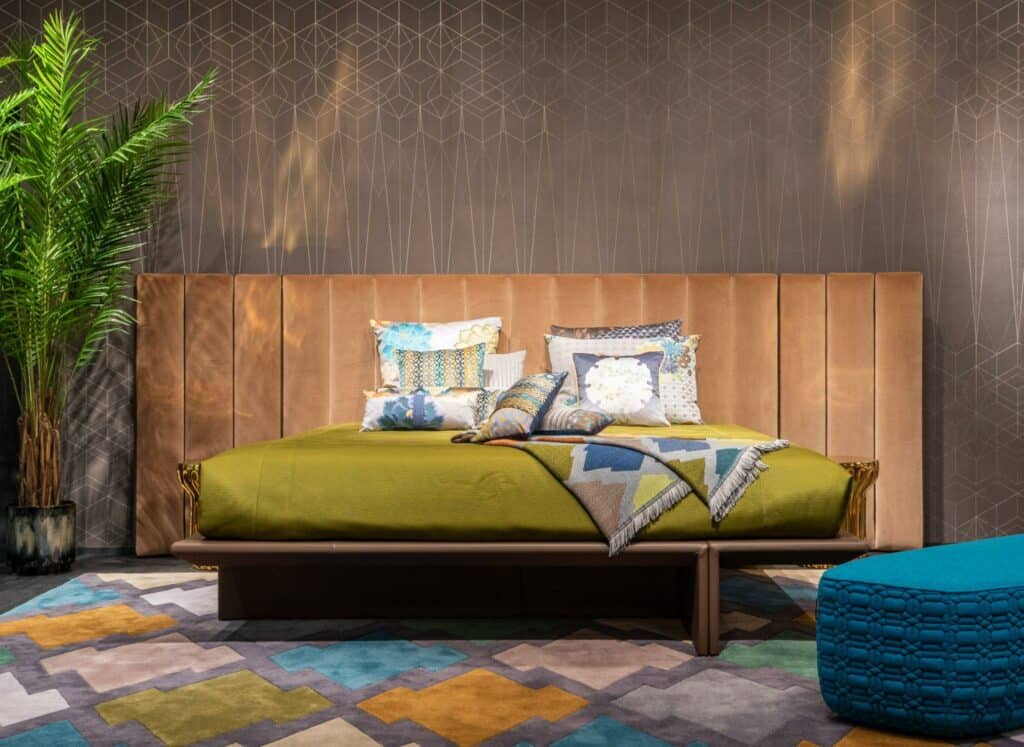 While wallpaper fell somewhat out of fashion with the rise of Modernism, it's now enjoying a renaissance. Advancements in materials and digital printing have inspired a new generation of artists and designers to take up the medium.
Modern wallpaper is more durable and long-lasting, thanks to advances in technology. It's also easier to install and remove.
Today you can find wallpaper in virtually any pattern, style, or texture imaginable, from embossed designs to metallics to fabric paneling.
Wallpaper can be fun and playful, bold and bright, daring and glamorous, or tasteful and subdued. It remains popular today for the same reason it was popular hundreds of years ago. It's a cost-efficient way to makeover a space with beautiful, lasting results.
Get Started on Your Project with a Quality Wallpaper Adhesive by ROMAN Products
Whether you're ready to start a wallpaper project or are still on the hunt for the perfect wallpaper option, you'll need a quality wallpaper adhesive for your project.
If you're a DIYer looking for an easy-to-install wallpaper option, a non-woven paper is a great choice. Unlike traditional wallpapers that need to be pasted and booked before hanging, non-wovens can be installed using the paste-the-wall method.
With this technique, you apply adhesive directly to the wall with a paint roller, then adhere a clean, dry panel of wallpaper to the wall.
Check out these how-to guides for step-by-step instructions on prepping a room for wallpaper, installing wallpaper, and more.
Sources