Just as clothing styles continually evolve, the public's taste in wallpaper designs can shift dramatically over time. Wallpaper patterns that seemed so modern and pleasing to the eye twenty years ago often look ridiculous and off-putting in the present. 
The desire to keep pace with current tastes in wallpaper design is the motivation for many home renovation projects. Taking off that old, outdated wallcovering and replacing it with up-to-date material sporting a brand-new look can provide the home with an instant injection of style, and aside from that can be a rewarding activity for the DIY enthusiast.
But what are the fashionable styles in wallpaper these days? What should the trend-conscious homeowner look for when selecting wallcoverings for the home? As it happens, the state of wallpaper fashion in 2023 is highly multifaceted; you can't point at one particular pattern or color as embodying the essence of The Way We Live Now. Modern wallpaper design comes in many flavors.
That means you have plenty of options when it comes to trending wallpaper styles. Let's take a closer look at the wallpaper trends of 2023.
Wallpaper Styles for 2023
1.Maximalism
Maximalism is all about more—dense, complex, often floral-themed designs with tons of details to admire. With a maximalist design, it can seem like the entire wall has turned into a jungle of sorts. And in 2023, it's the kind of look that an increasing number of homeowners want in their homes.
If you're going for a maximalist design, though, it's vitally important to select really well-rendered, elegant designs. You're making a bold statement, and an inappropriate pattern will be overwhelming in the wrong way altogether.
One good example of this style is Fruitta Wallpaper from Milton & King's Kingdom Home Collection. This is a highly flamboyant pattern, inspired by 17th century Dutch art, featuring a mélange of overlapping, densely arranged fruits and flora.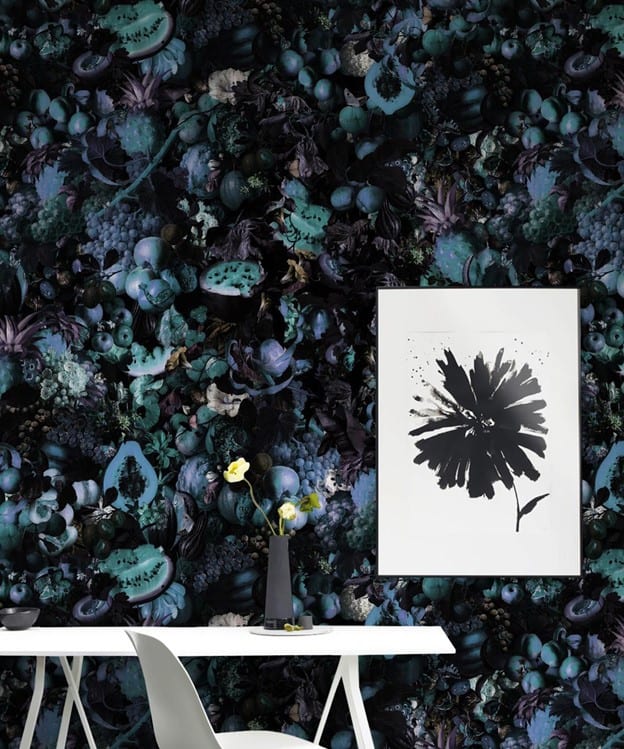 Photo Credit: Milton & King
2. Bursting With Color
When you prefer to fill a room with cheer, there's nothing like wallpaper decorated with all kinds of bright, splashy colors. It's an understandably popular look these days—who wants to spend all their time in gray, gloomy rooms? What you want with this style is the kind of luscious designs that show off a whole palette of bright and "fun" colors.
The appropriately named Abundance Wallpaper from Kip&Co is a prime example of this style. This well-designed "explosion of flowers" can provide the kids' bedroom, kitchen, or another area of the home with the warmth and playfulness of summer. The beach-flavored Encinitas Wallpaper offers a similar option.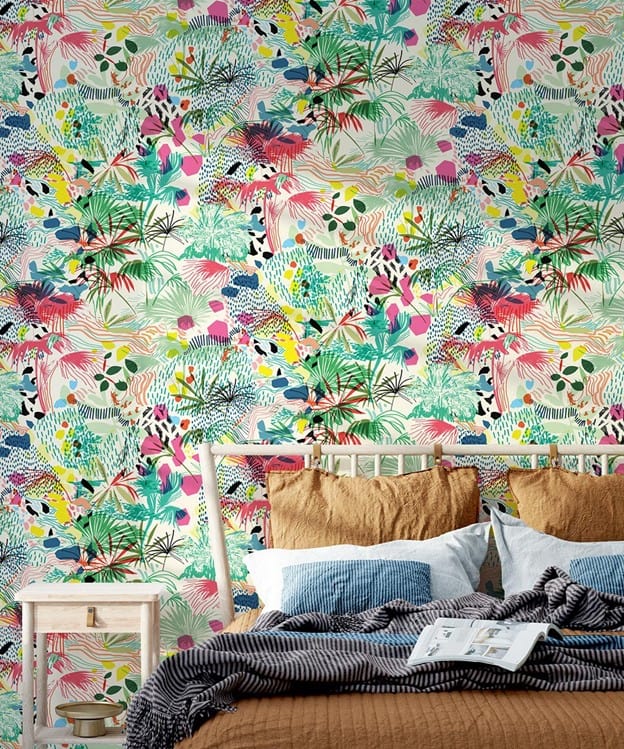 Photo Credit: Milton & King – The Wallpaper Republic
3. Murals
Mural wallpaper is intended to display a continuous image or design. This style of wallpaper usually takes up an entire wall, presenting an imposing scene—which can be anything from a beach tableau to abstract artwork—that naturally draws the eye. Design elements tend toward the big and bold. In 2023, this is a good option for any homeowner who really wants their wallpaper to stand out and command attention.
The design of a mural tends to make a statement about the homeowner's personality, so the right pattern ultimately comes down to individual taste. But here's one option you may wish to consider: Crane You Later wallpaper from Remix Walls by Katie Hunt, a brand that specializes in attractively designed murals. This design shows a flock of strikingly rendered flying cranes against a cozy blue sky.
Photo Credit: Remix Walls by Katie Hunt
4. Floral
Flower designs in wallpaper are perennially popular, and for good reason. Most people find flower patterns restful, which makes this type of wallpaper a good choice for a bedroom or any other area of the home devoted to relaxation. The affection for floral wallpaper remains strong in 2023, so it's likely to be a common option for homeowners who want a new look.
Anemone Multicolor Floral Wallpaper, available from Brewster Home Fashions, is a good example of this design style. It displays an assortment of poppies and tulips on a charcoal-colored background that is easy on the eye.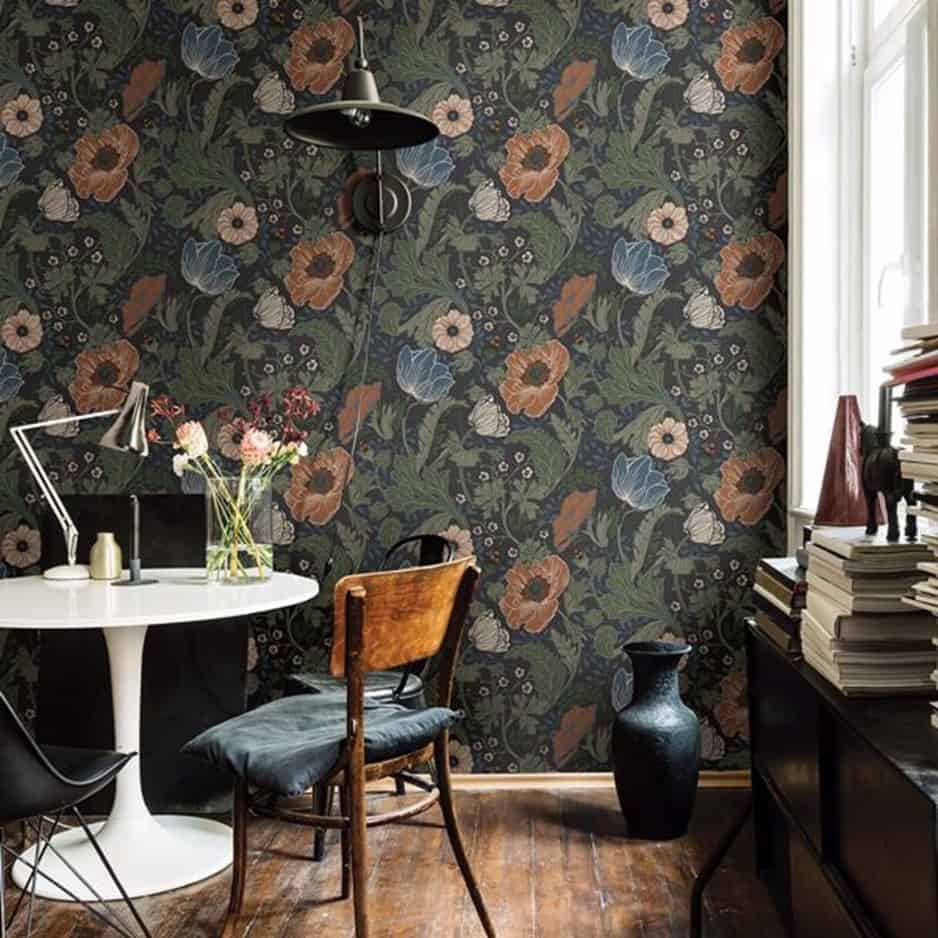 5. Chinoiserie
A decorative style in the arts dating back to the 17th century, Chinoiserie is a European design based on visual elements borrowed from Far East culture. Chinoiserie wallpaper typically displays bright colors and elaborate patterns, all with a distinctly Eastern flair. In 2023, it's a sound wallpaper option for homeowners seeking to cultivate an exotic or mystical atmosphere.
Designed by Rifle Paper Co., Peacock Wallpaper is a first-rate example of this style. This wallpaper, available in multiple color options, displays a number of peacocks against a soothing floral arrangement.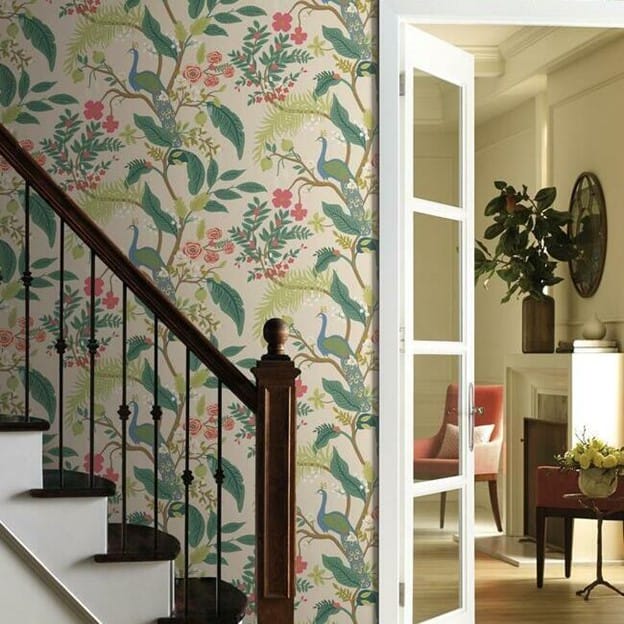 Photo Credit: Rifle Paper Co.
6. Feature Walls
A feature wall, often called an accent wall, is generally the first one seen by visitors when they enter a room, and in many cases it is given a unique design that enables it to stand out and focus the attention. When selecting wallpaper for your feature wall, it's acceptable to let your imagination run wild and pick a dramatic design that might seem overpowering if the entire room were outfitted with it.
One striking example of this design style is offered by Rene Nightfall Wallpaper, available from Graham & Brown. It's a powerful 1920s-inspired design that exudes finger-snapping cool.
7. Textures
Textured wallpaper has a raised surface that creates a rough or uneven texture that is apparent when you lightly run your fingers across it. This is a popular option among homeowners who want to enhance the visual appeal of a room without using standard wallpaper imagery like flowers and so forth; it can also help hide damage to a wall.
There are plenty of textured options out there for the homeowner. One attractive design is the Caiger Paintable Textured Vinyl wallpaper from Brewster Home Fashions. Sporting a pleasingly wavy texture, this wallpaper can be painted in whatever color the homeowner prefers.
8. Vintage
For some homeowners in 2023, it can be accurately said that everything old is new again. That explains the enduring popularity of vintage wallpaper, which can be used to evoke a retro feel—anything from an 18th century rustic look to the cozy domesticity of the 1950s. The patterns used to create this effect vary widely as well, with floral patterns being quite common. But really, any wallpaper that suggests past eras can be considered vintage.
Tulipa Blue Floral Wallpaper from Brewster Home Fashions is a pleasant example of the vintage type, featuring an assortment of tulips and foxgloves against a blue background.
For the nursery, you want soothing, whimsical designs on non-toxic material that poses no risk to the child. Bright colors and animal scenes are common in these rooms.
A particularly good option for the nursery is the Bengal Sunrise Mural wallpaper from Hygge & West. It depicts a luscious scene, rendered in crisp graphics, of tigers, monkeys, and other animals peacefully assembled amidst the foliage. All this is printed on PVC-free paper that has a Class A (the safest) fire rating.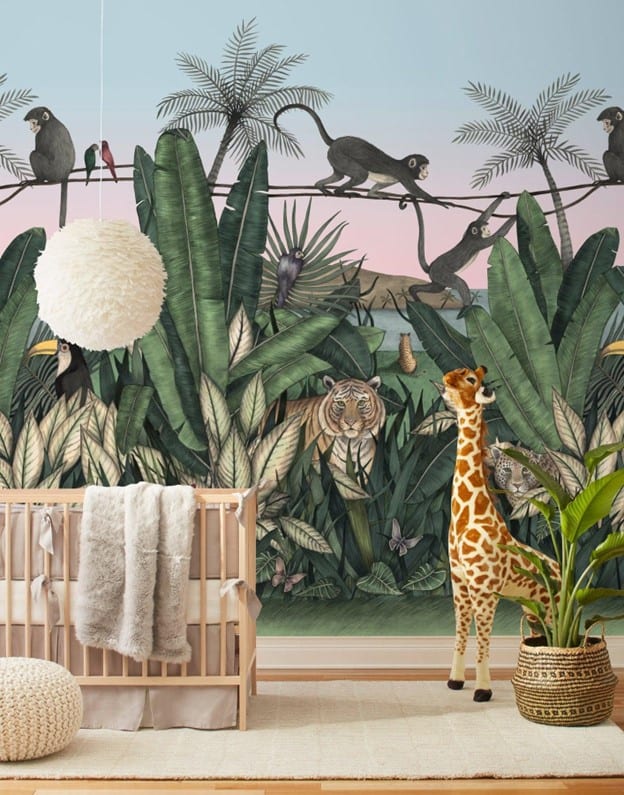 Photo Credit: Hygge & West
10. Abstract Wall Patterns
Computer designs are very popular today for many mediums, and wallpaper is no exception. Designs can be anything that moves your imagination toward an other-worldly experience. Bold geometric patterns, holograms, and even imitation of pop-art from the 70's can be found. In addition to the shapes and patterns that give this design it's unique look, color and texture can be combined to help create an abstract design.
11. Tropical and Botanical Print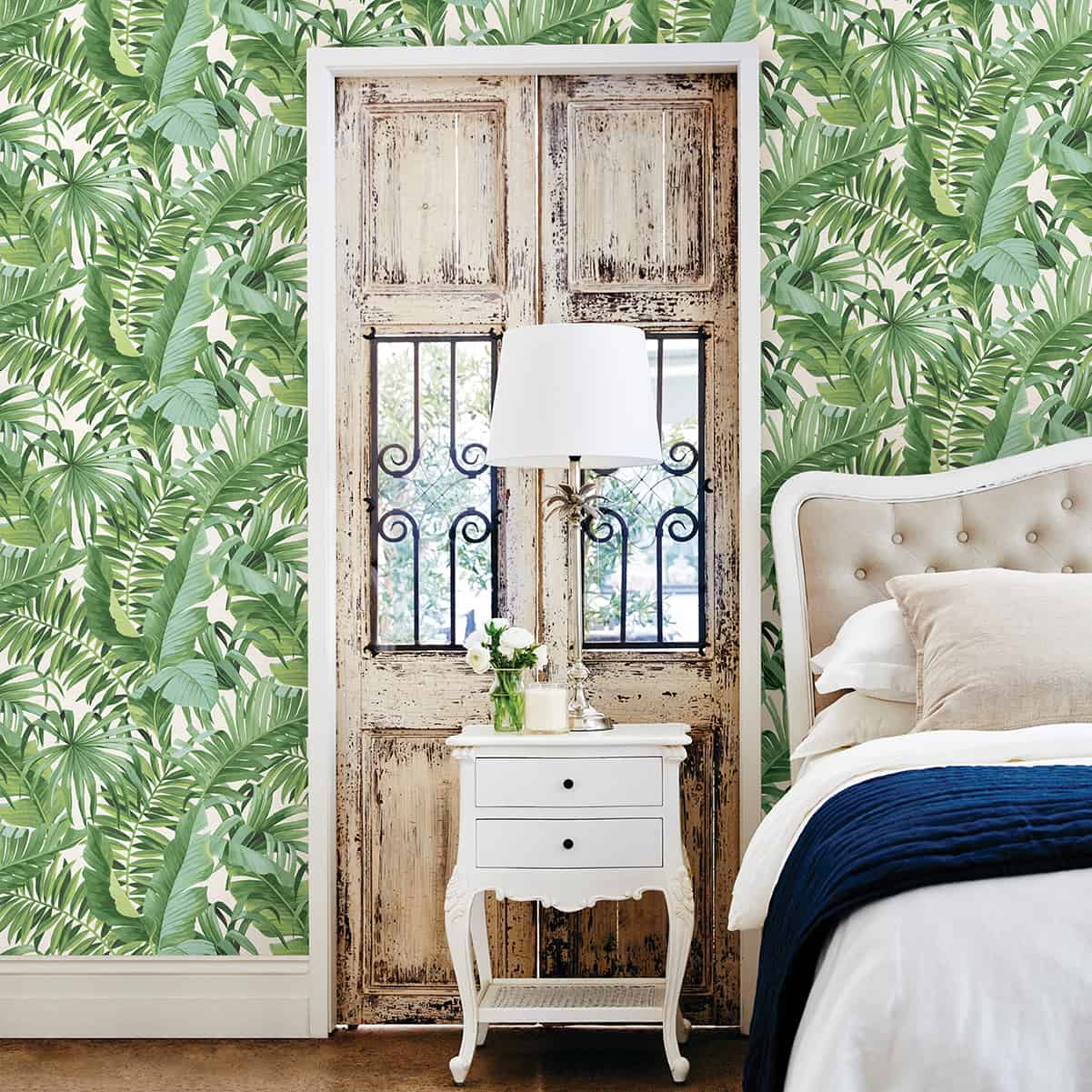 Alfresco Green Tropical Wallpaper by Brewster
Tropical and botanical prints are the leading trend for 2023 wallpaper designs. They are attention-getting and striking in any interior. As with other similar patterns, they can bring a sense of nature into the home that truly extends your living environment.
12. Ultra-thin Geometric Designs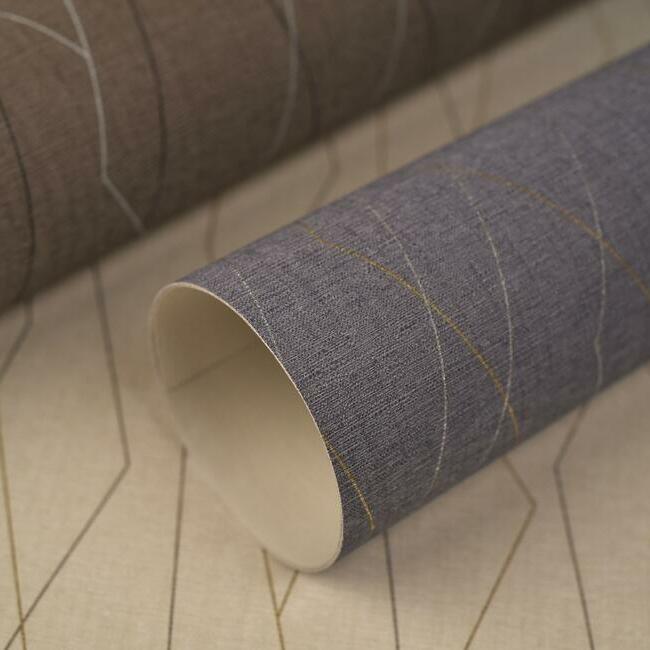 Diamond Fracture High Performance Wallpaper by York[/caption]
Geometric patterns have been around for a long time and are still very much in vogue for 2023. As the design has matured, however, the new trend is toward very thin lines rather than bold, wide designs. Circles, rectangles, squares and various other shapes can be mesmerizing.
13. Art Deco
A typical art deco wallpaper design incorporates the iconic and lavish patterns from the 1920s, and gives them a modern twist. If you like modern-retro luxury style, art deco should fit into your design scheme perfectly.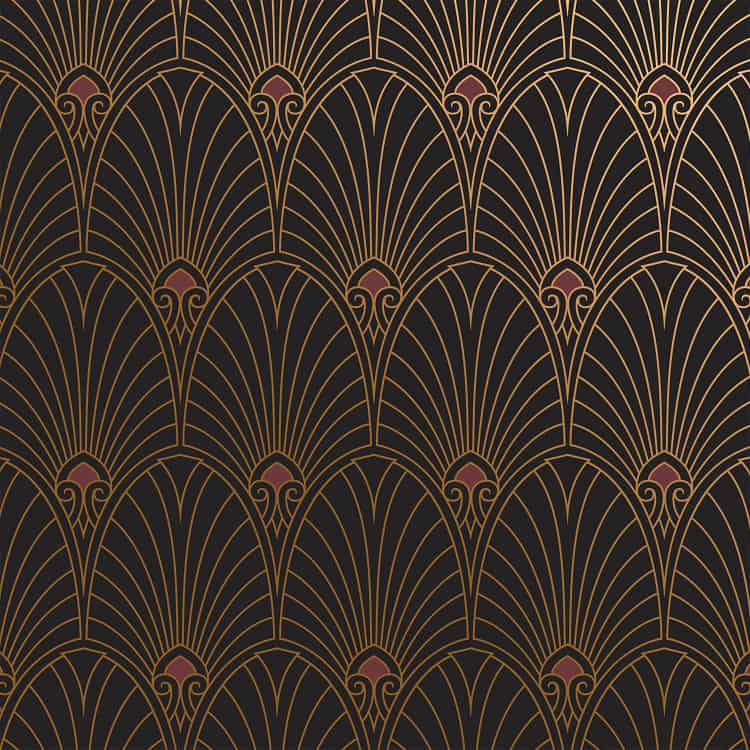 Havana – Bradbury and Bradbury
15. Damask Victorian Design
For those that truly love the look of the Victorian age, or appreciate the classic homes of days gone by, Damask wallpaper is still very much in style. Damask is a reversible figured fabric of either silk, wool, linen, cotton, or synthetic fibers and gives the wall an elegant texture that lends itself to rooms filled with antique furniture.
Trust ROMAN Products for Wallpaper Installation 
Now that you have selected the perfect wallpaper design from the designs in 2022, it's time to hang it on the wall professionally. There are some basic steps that should be followed, and part of the process includes using the best wallpaper installation tools on the market from Roman Products.
5 Basic Steps For Installing Wallpaper
Smooth the wall. Fill holes with spackling or drywall compound and sand bumps and heavy textures to ensure you have a smooth, clean, and level surface.
Clean your wall. Make sure all ink marks, crayons, lipstick or other foreign contaminants are removed, as they can bleed through the wallpaper. If there is a layer of wallpaper on the wall, it is recommended that it be removed before applying the new wallcovering. This is easily accomplished with PIRANHA or ROMAN PRO-466 wallpaper and paste remover.
Apply primer to seal the wall. You will need to determine your wall condition before selecting the proper sealer. If the application is new, bare drywall, or you are going over an excellent paint job that displays no signs of peeling, then ROMAN PRO-977 Ultra-Prime Pigmented Wallpaper Primer is the best choice. For older walls that may have texture, or contractor grade paint, then ROMAN PRO-999 Rx-35 Sealer/Primer for Sealing Porous Surfaces is an excellent choice.
Wipe down your wall with a damp cloth 24 hours prior to installing, and allow to completely dry.
Apply your wallpaper. There are many considerations when it comes to selecting the proper wallpaper adhesive, but the top-of-line paste is Roman PRO-880 Ultra Clear Wallpaper Adhesive. It is formulated to hang most weights and types of wallpaper, but make sure to check for specific hanging instructions before making your paste selection. For smaller jobs, Roman PRO-543 Universal Wallpaper Paste is an excellent choice for many wallpaper designs that homeowners will be using.
ROMAN Products Are Premium Wallpaper Installation/Removal Solutions
In order to keep your wallpaper securely attached to a surface for years to come, you should pick only the highest quality tools and accessories. That's what you get when you shop at ROMAN, an industry leader in the wallcovering industry since 1957. Our products are widely used across the land by professionals and private homeowners alike. Please explore our inventory of wallpaper adhesives, primers, and accessories for the products you need to ensure a flawless installation.