Wallpaper has definitely experienced its fair share of being in and out of vogue in the past, however, 2020 has seen a resurgence in its popularity. Partly because today's homeowners aren't afraid to explore more exotic decorating choices, and the variety of modern geometric designs as well as natural fabrics and murals are meeting their creative needs. 
Nothing personalizes a home better than a beautiful wallpaper design. A properly placed border strip can accent a room or you can add a half wall of wallpaper to give a beautiful wainscoting appearance. You are only limited by your imagination with the thousands of designs and themes available today.
Wallpaper is expected to enjoy a strong resurgence in 2022, so let's look at the top choices for creating a feature wall or for covering an entire room. These are the top wallpaper trends for 2022:
Top 17 Wallpaper Trends For 2022
1. Bold Florals
Florals are, quite literally, bigger than ever for 2022. Large-scale prints are the hero-floral for the seasons ahead. Captivate a room with a feature wall of flourishing foliage. The trend for Renaissance-style brooding dark backdrops with rich jewel tones is very much a key style to look out for.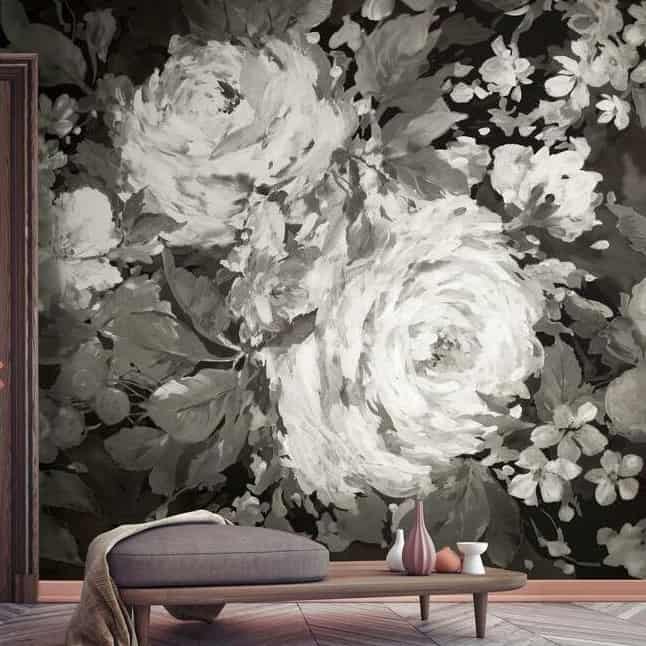 Impressionist Floral Wall Mural by York Wallcoverings
2. Sleek Metallic Effect
One of the most stunning wallpaper options at the moment is the metallic effect design, which looks very fashionable and elegant in any interior. You can find plenty of modern wallpaper options with all kinds of amazing designs mixed with a metallic color, and this kind of combination looks very luxurious and graceful.
 Darcy by Graham and Brown
3. Marble Effect
If you have been keeping up with the latest wallpaper trends, then you probably know that a marble design has gained huge popularity among interior decorators. In fact, marble continues to evolve and change with new designs and motifs, while maintaining its deserved label of a highly trending wallpaper for 2022.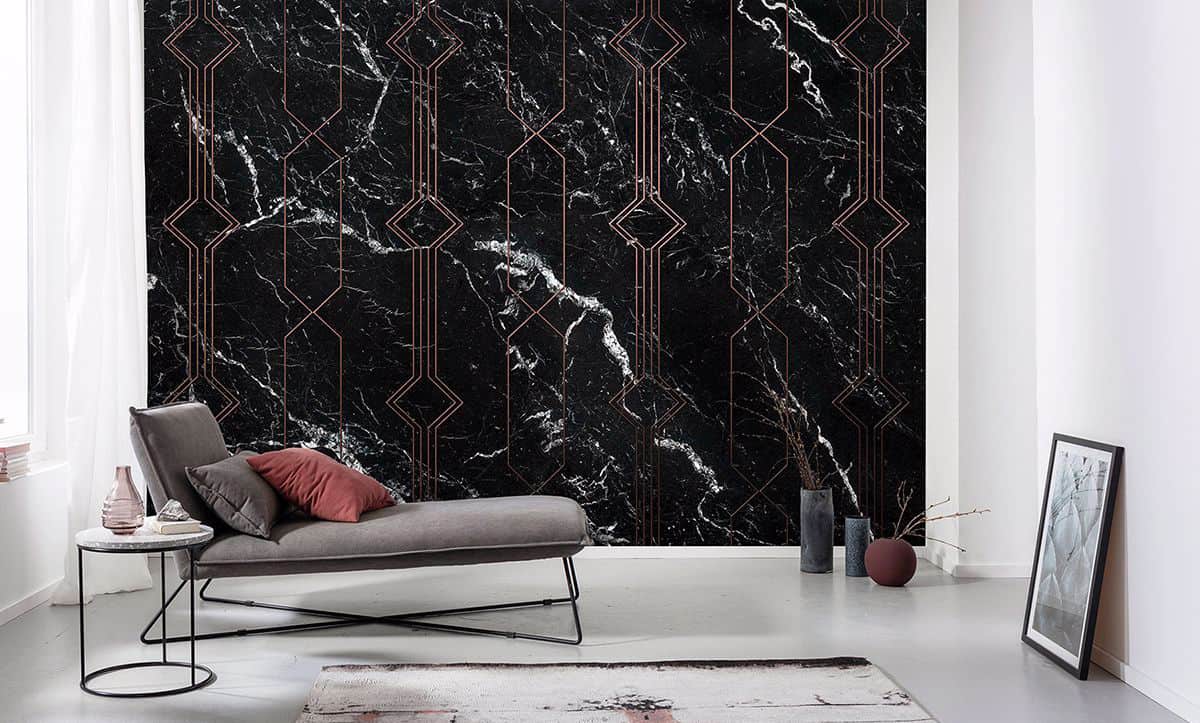 Marble Black Wall Mural by Brewster Home Fashions
4. Modern Rustic Style 
The rustic style is another blend that uses natural elements in a contemporary environment. Mixing a faux wood wallpaper in an otherwise contemporary space would be a perfect example of this pairing.
5. Maximalist Designs
Maximalism is a powerful style for 2022, made of concentrated colors of varying patterns, and extravagant design motifs. The niche has its roots in English design but the bold colors and patterns are what makes it an excellent choice today.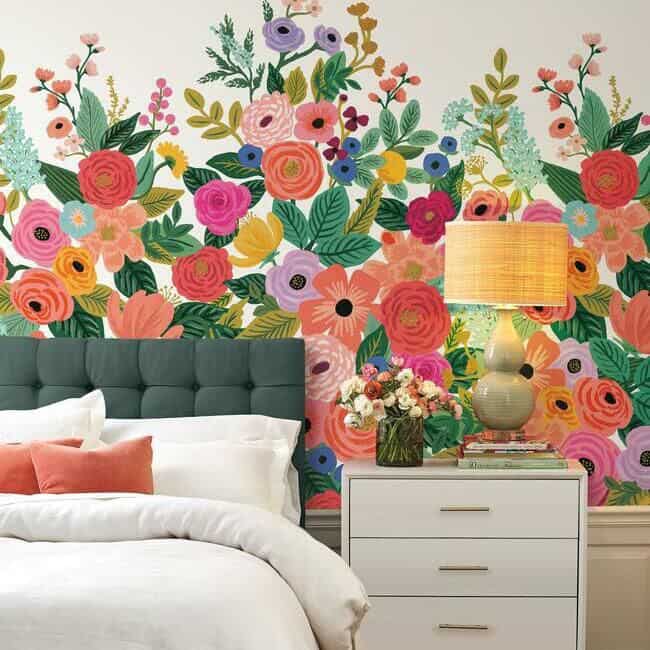 Garden Party by York Wallcoverings
6. Wall Murals That Fascinate
Wallpaper murals have seen a surge in popularity, and homeowners are using these types of wall designs to make a statement. There really is no limit as to what will make a great mural, but some subjects to consider are big forests, maps of the world, as well as beautiful flower arrangements.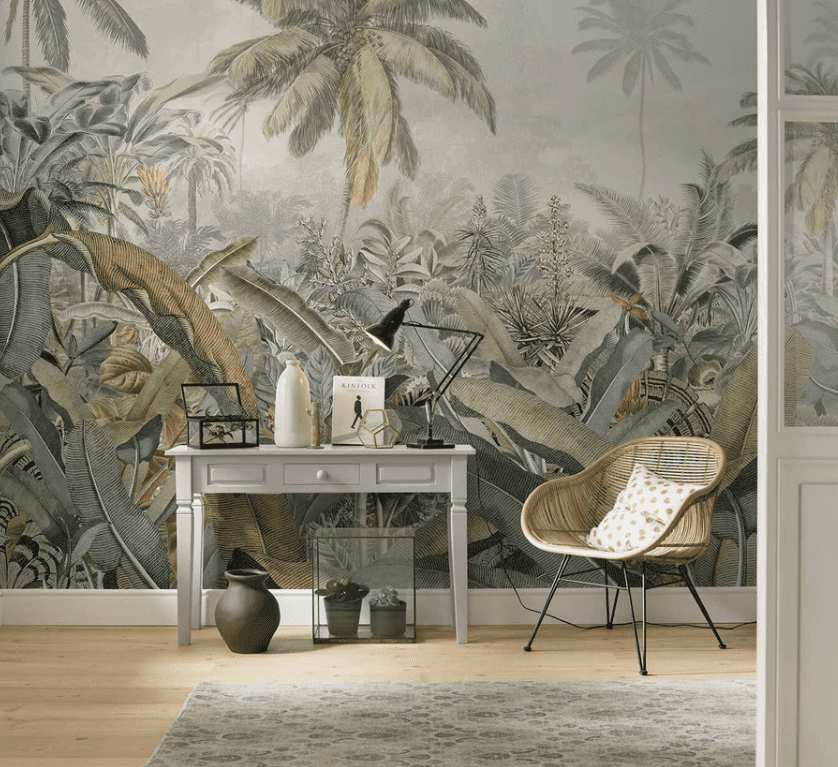 7. Welcoming the Outdoors In
Everyone loves nature and we try to bring the beauty of the outside world into our homes every chance we get. Combining the indoors and outdoors with animals and birds in their natural settings among a backdrop of lush plants brings a sense of serenity into our lives.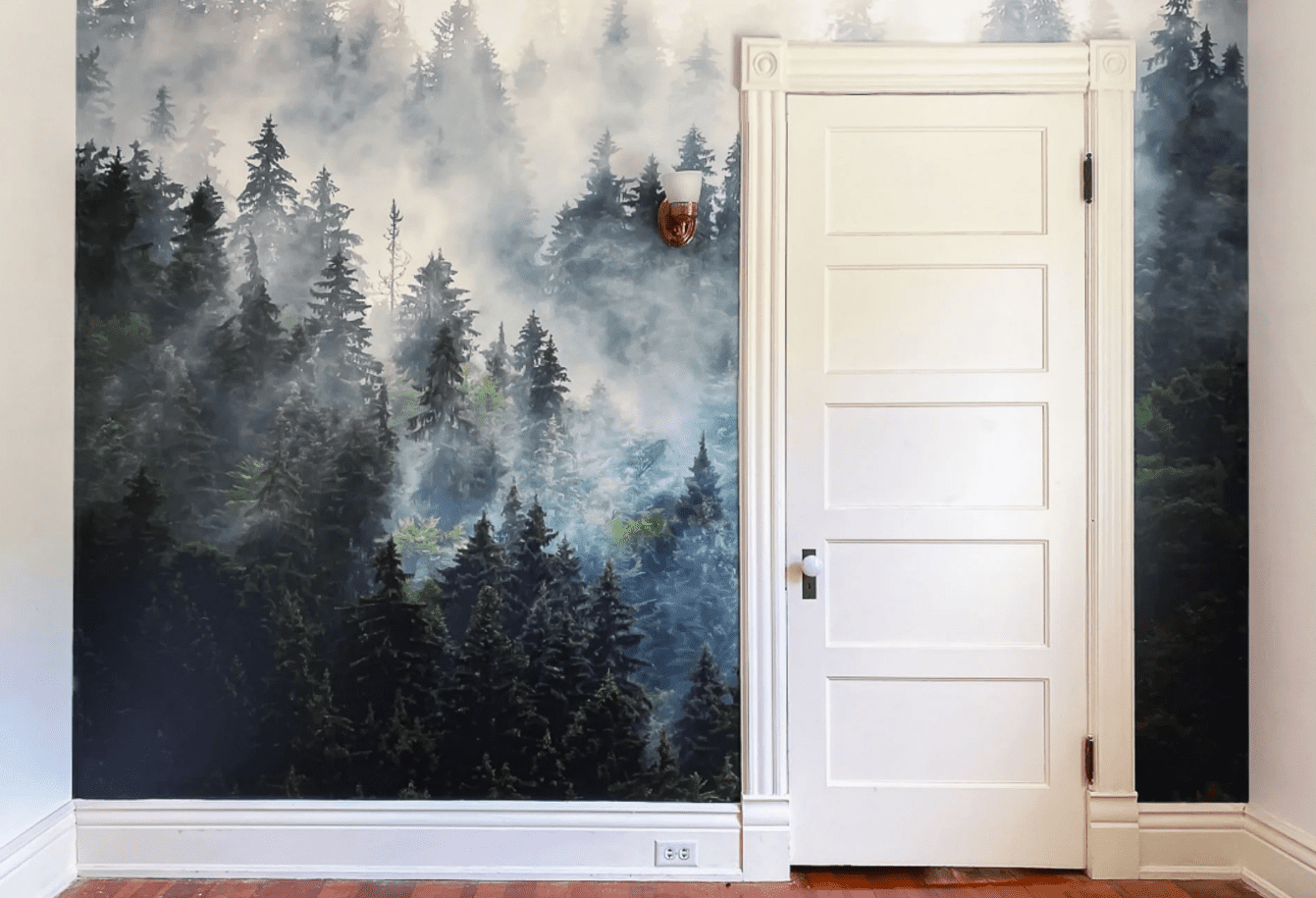 8. Grandmillennial Design Patterns
The term "Grandmillennial" (sometimes called granny chic) may not be familiar to many, yet this trend is gaining traction for interior designs in 2022. Think of grandma's home that has a touch of elegance mixed in with traditional floral patterns to create a cozy atmosphere.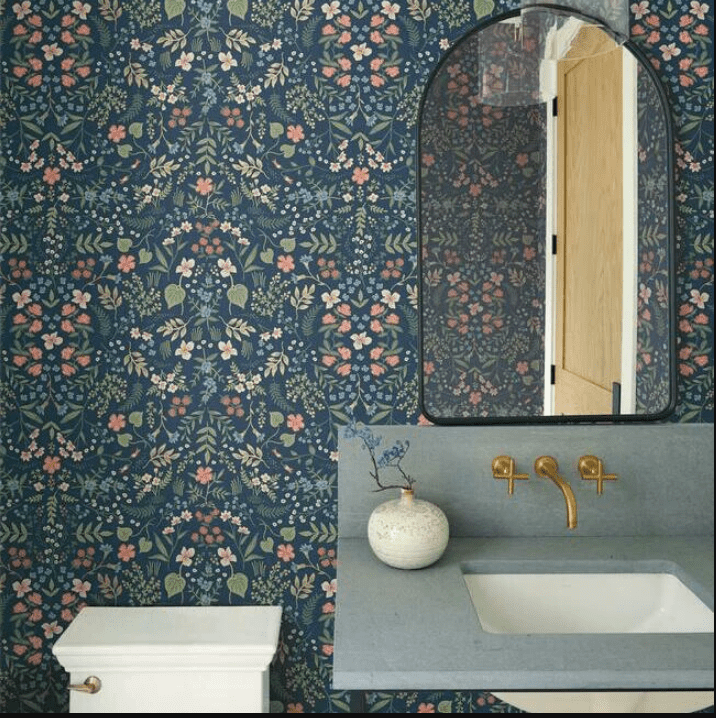 You can see and feel wallpaper. Reed wallpaper, upholstery, canvas and leather are just a few of textures that can make a beautiful statement as wallpaper. Some interior design specialists are combining textures in the same room to make a bold, unique or personal statement. 
10. Abstract Wall Patterns
Computer designs are very popular today for many mediums, and wallpaper is no exception. Designs can be anything that moves your imagination toward an other-worldly experience. Bold geometric patterns, holograms, and even imitation of pop-art from the 70's can be found. In addition to the shapes and patterns that give this design it's unique look, color and texture can be combined to help create an abstract design.
11. Tropical and Botanical Print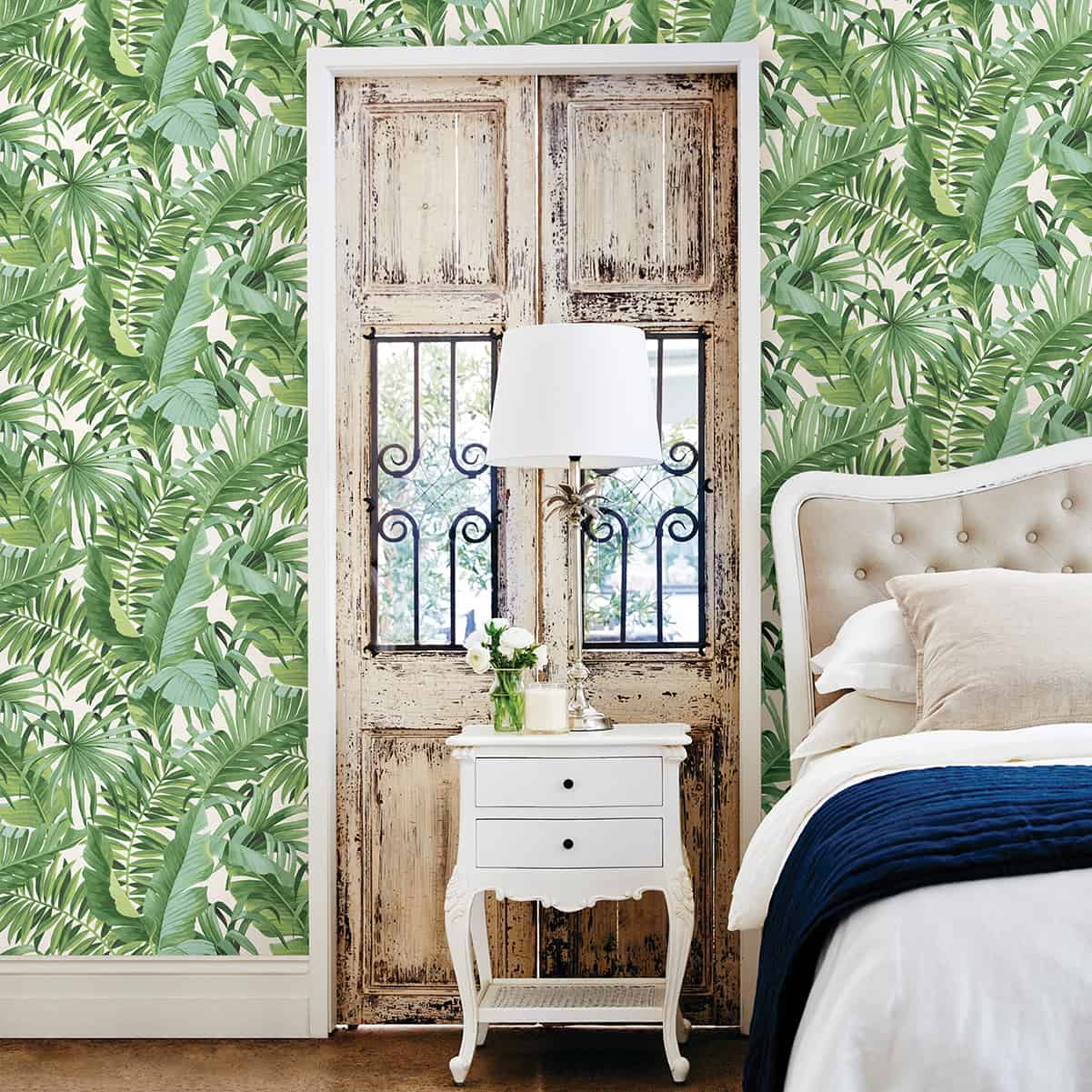 Alfresco Green Tropical Wallpaper
by Brewster
Tropical and botanical prints are the leading trend for 2022 wallpaper designs. They are attention-getting and striking in any interior. As with other similar patterns, they can bring a sense of nature into the home that truly extends your living environment.
12. Ultra-thin Geometric Designs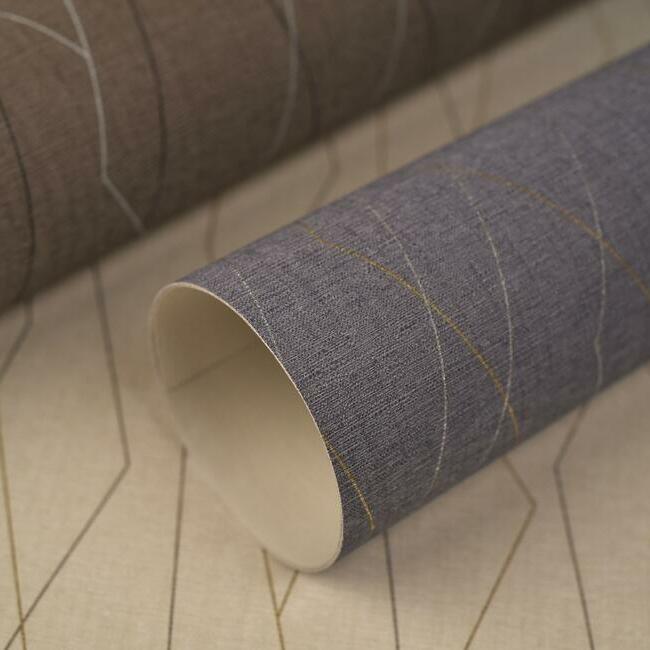 Geometric patterns have been around for a long time and are still very much in vogue for 2022. As the design has matured, however, the new trend is toward very thin lines rather than bold, wide designs. Circles, rectangles, squares and various other shapes can be mesmerizing.
13. Art Deco
A typical art deco wallpaper design incorporates the iconic and lavish patterns from the 1920s, and gives them a modern twist. If you like modern-retro luxury style, art deco should fit into your design scheme perfectly.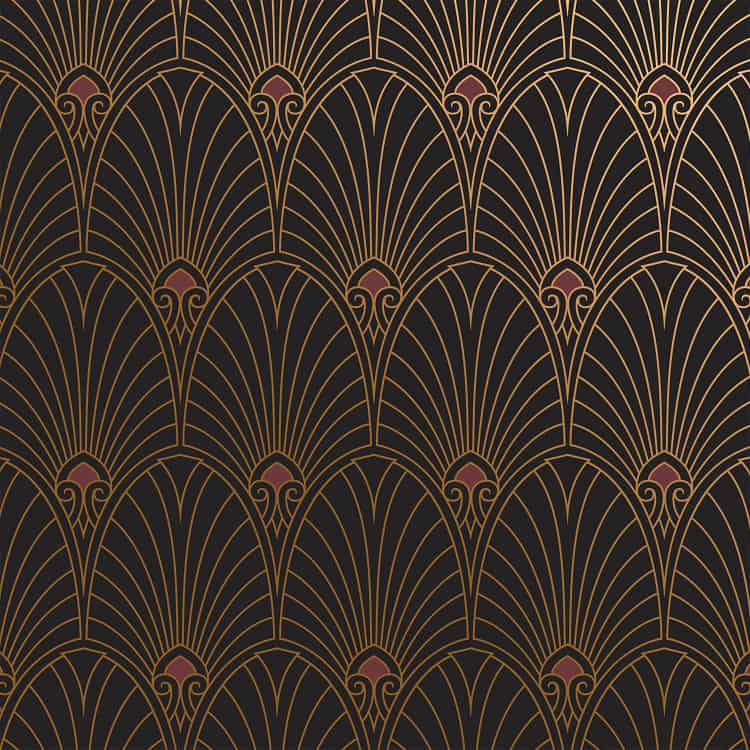 15. Giant Life-Like Murals
Imitation stone, wood, and brick, are just a few examples of how wallpaper can bring the contrast of natural surfaces into your wall covering project. While an actual wall of wood or brick may be desired, it might be impossible to create due to structural limitations. Today's modern photographic transfer techniques make wallpapers like this giant mural design look genuine from just a short distance and will save you money and time.
16. Vintage Inspiration
Every style season retains some of the old while combining it with the latest trend. A vintage design wallpaper gives the sense of living in the 19th century in your 21st century home. Often done as an accent wall or in a kitchen, this style combines the luxury look of a fine Victorian home with the friendly and informal atmosphere of your grandparents' living room.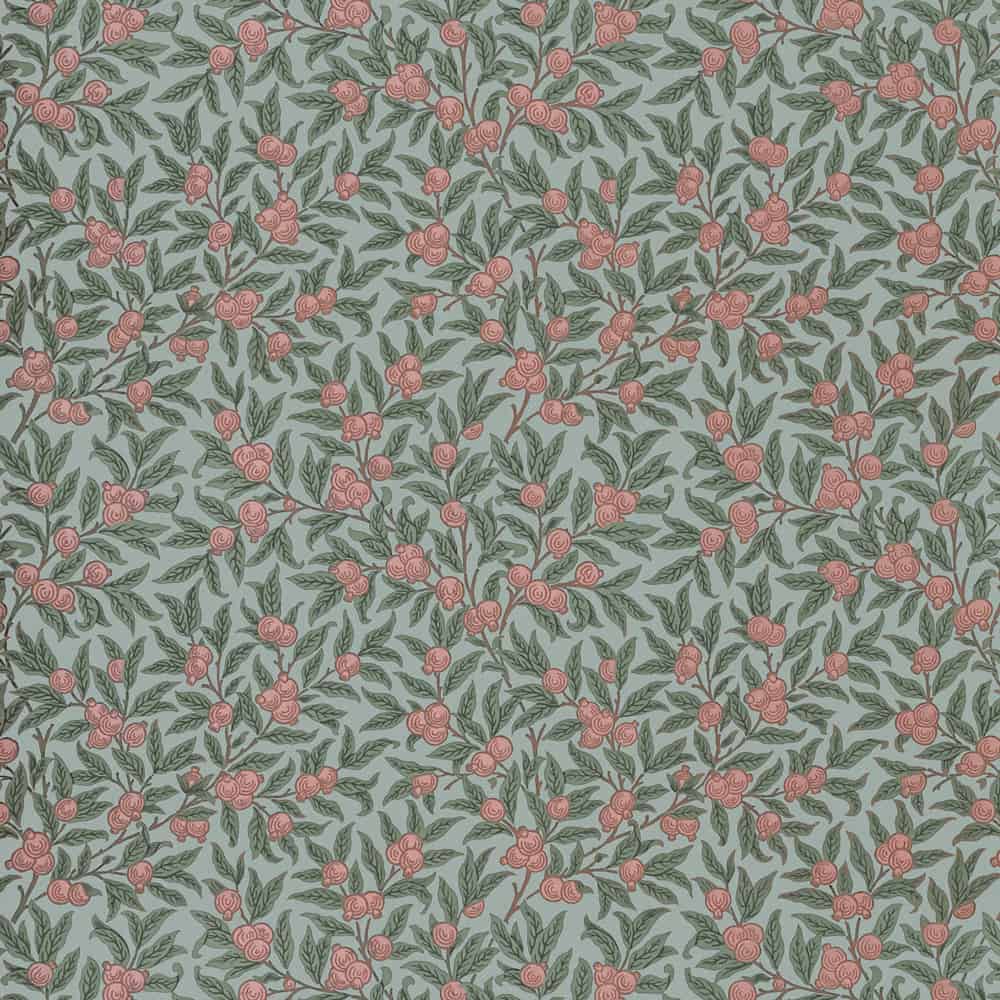 17. Damask Victorian Design
For those that truly love the look of the Victorian age, or appreciate the classic homes of days gone by, Damask wallpaper is still very much in style. Damask is a reversible figured fabric of either silk, wool, linen, cotton, or synthetic fibers and gives the wall an elegant texture that lends itself to rooms filled with antique furniture.
Proper Steps For The Perfect Wallpaper Installation 
Now that you have selected the perfect wallpaper design from the designs in 2022, it's time to hang it on the wall professionally. There are some basic steps that should be followed, and part of the process includes using the best wallpaper installation tools on the market from Roman Products.
5 Basic Steps For Installing Wallpaper
Smooth the wall. Fill holes with spackling or drywall compound and sand bumps and heavy textures to ensure you have a smooth, clean, and level surface.
Clean your wall. Make sure all ink marks, crayons, lipstick or other foreign contaminants are removed, as they can bleed through the wallpaper. If there is a layer of wallpaper on the wall, it is recommended that it be removed before applying the new wallcovering. This is easily accomplished with PIRANHA or ROMAN PRO-466 wallpaper and paste remover.
Apply primer to seal the wall. You will need to determine your wall condition before selecting the proper sealer. If the application is new, bare drywall, or you are going over an excellent paint job that displays no signs of peeling, then ROMAN PRO-977 Ultra-Prime Pigmented Wallpaper Primer is the best choice. For older walls that may have texture, or contractor grade paint, then ROMAN PRO-999 Rx-35 Sealer/Primer for Sealing Porous Surfaces is an excellent choice.
Wipe down your wall with a damp cloth 24 hours prior to installing, and allow to completely dry.
Apply your wallpaper. There are many considerations when it comes to selecting the proper wallpaper adhesive, but the top-of-line paste is Roman PRO-880 Ultra Clear Wallpaper Adhesive. It is formulated to hang most weights and types of wallpaper, but make sure to check for specific hanging instructions before making your paste selection. For smaller jobs, Roman PRO-543 Universal Wallpaper Paste is an excellent choice for many wallpaper designs that homeowners will be using.
ROMAN Products Are Premium Wallpaper Installation/Removal Solutions
Regardless of the type of wallpaper project you are undertaking, from installing a fresh roll on a new construction wall, or removing multiple layers of old wallpaper from a commercial building, Roman Products has the primer, pastes, and remover that you need to get the job done right the first time. Contact us today for more information on where to purchase Roman wallpaper products near you.