Regardless of the surface, the correct primer will help simplify the wallcovering installation process. Without the right primer for the surface you'll be working with, you won't have the best results. Primer is always helpful, no matter the situation or project. There are several varieties of wallcovering primers, and each complements a specific type of surface.
If you don't know what primer to use under wallpaper, ROMAN Products has got you covered. Today, we'll look at the different types of primers to help you decide the best one for your project!
The Advantages of Priming with a Wallcovering Primer vs. Paint or Universal Primer
Using a wallcovering primer for your project gives you advantages and benefits other materials cannot match. Taking the time to properly prepare the surface for wallpaper can help make installation faster and easier. Proper prep will also help when it's time to redecorate, allowing you to remove your wallpaper more easily with less damage to your walls.
ROMAN recommends every project start with a quality pre-wallcovering primer, such as PRO-977 or PRO-909. These wallpaper primers typically dry to a harder finish than paint and universal primers. This finish evens the porosity of the wall, ensuring good adhesion and reducing the chance of bubbling. It also improves "slip," allowing the wallpaper to slide across the wall more easily, helping with positioning and pattern matching. During removal, quality wallpaper primers protect your walls and promote strippability.
In addition to standard pre-wallcovering primers, ROMAN has specialty primers formulated for a variety of surfaces and applications. For example, PRO-935 promotes adhesion on sealed surfaces like glass and tile, and PRO-999 is ideal for priming porous surfaces like torn drywall and joint compound.
It's important to choose the correct primer for your project. The guide below will break down the differences between each formula and explain why you might choose one over the other.
Pigmented (White) vs. Clear Primer
There are two main types of wallcovering primers: pigmented and clear. Each one of these options has unique advantages.
ROMAN's pigmented primers contain titanium dioxide, giving it a bright white color. This pigment provides a "high hide," helping the primer easily cover up any existing paint. It also allows the primer to be tinted with up to four ounces of universal colorant per gallon. Having a primer that can change colors is helpful when dealing with light-colored and semi-transparent wallpapers like grasscloth.
You can easily tint the primer to match the wallpaper's color, preventing other colors from being noticeable through the paper. Therefore, pigmented primers are excellent options if you are working over drywall or sound-painted surfaces.
If you're looking for the highest quality pigmented wallcovering primer, choose PRO-977 Ultra Prime. For projects looking to qualify for green building credits, ECO-988 Pigmented Primer is an excellent option.
On the other hand, clear primers are colorless and cannot be tinted. However, certain clear primers like PRO-909 Vinyl Prep are often more affordable and work perfectly with sound-painted surfaces. This type of primer also dries clear and has little to no odor.
Why Choose a White Primer?
Wallpapers come in different designs and presentations. Some of them are semi-transparent, meaning you can see through them. Other materials, such as grasscloth, have gaps in their designs.
If the existing paint or primer is too dark, you'll be able to notice it right away. That's why choosing a primer you can tint can be so helpful for your project.
You'll just need to tint the primer to mimic the color of the wallpaper. Tinting your primer to match can help hide any gaps or imperfections. However, pigmented or white primers can only be tinted within limits, so keep this in mind when choosing a suitable primer and wallpaper for your project.
Tint Limitations of Pigmented or White Primers
Pigmented or white primers can be tinted to match the color of your wallpaper. However, they have some limitations you should keep in mind. Wallcovering primers can only take on a certain amount of tint, so they're better suited to some colors than others.
A white or pigmented primer like the PRO-977 Ultra Prime or the ECO-988 will work best with light tones like blues or grays. The pigmented or white base can easily adapt to these paler tones. In particular, the PRO-977 is tintable with up to four ounces of universal colorant.
Why Choose ROMAN Products for Your Wallpaper Projects?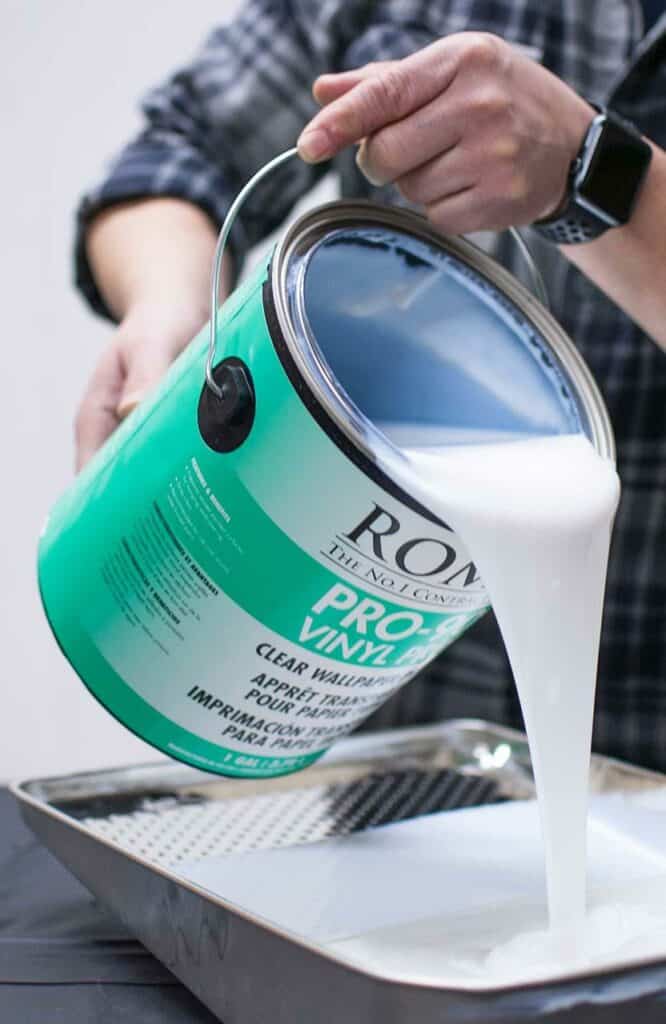 At ROMAN Products, we have the widest selection of professional wallpaper primers. Our primers are designed and manufactured to be durable, easy to apply, reliable, and cost-efficient.
These are our ROMAN wallcovering primers:
PRO-999 (Rx-35) Sealer/Primer for Porous Surfaces: The ideal primer for torn drywall, joint compound, skim coats, and residual wallpaper paste. PRO-999 locks down porous surfaces and prevents bubbling and rewetting. It dries clear with a residual tack to improve the adhesion of new paint or wallpaper.
PRO-977 Ultra Prime White (Pigmented) Primer: If you want to prime new or painted walls, PRO-977 should be your go-to choice. This excellent and durable wallpaper primer is our preferred option for preparing walls for new wallcoverings. It dries to a hard, matte finish that improves bonding yet promotes strippability when it's time to redecorate.

PRO-935 (R-35) Adhesion Promoting Primer for Sealed Surfaces

: Ideal for preparing difficult to adhere surfaces for wallcovering. It is the right choice if you are working with surfaces like glass, ceramic tile, sealed wood paneling, and Formica. This incredible primer will dry clear with a heavy residual tack for improved adhesiveness on the most challenging surfaces.

PRO-909 Vinyl Prep Pre-Wallcovering Primer

: Ideal for priming latex-painted walls, PRO-909 is an affordable option for preparing walls for new wallpaper. It dries clear, increases "slip" for easier pattern matching, and cleans up easily with water.

ECO-988 Pigmented Wallcovering Primer

: ECO-988 provides excellent performance while complying with rigorous green building and low emission standards. It is permeable, zero VOC (as calculated per EPA Method 24), CDPH CA 01350 compliant, and may contribute to the awarding of LEED points. To ensure permeability throughout your installation, combine this primer with the ECO-888 or ECO-788 wallcovering adhesives.
How to Choose the Right Primer for Your Surface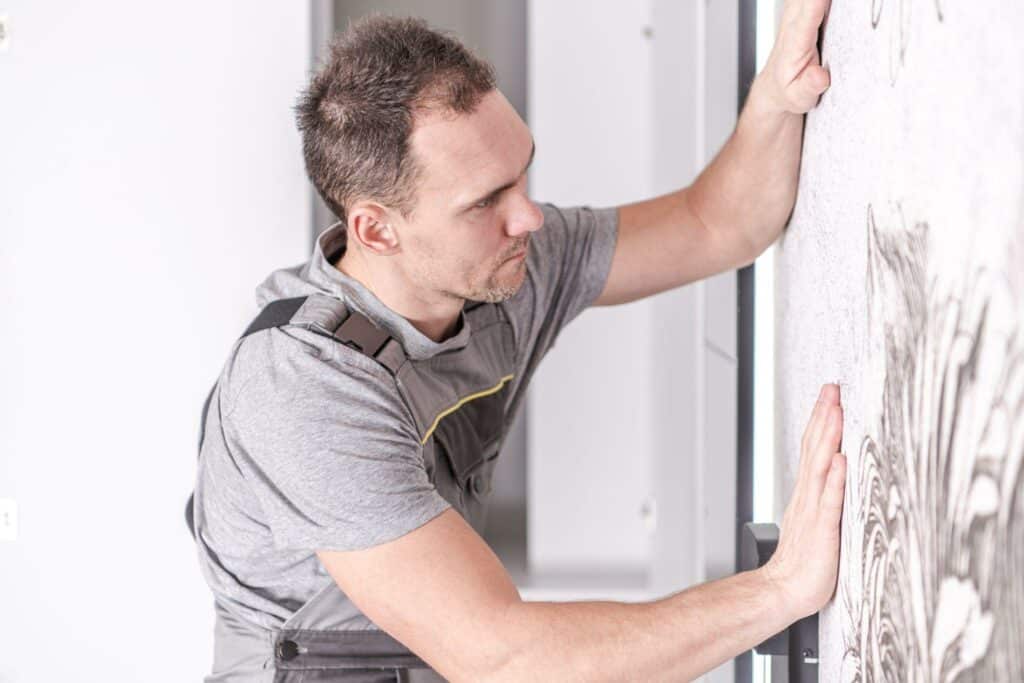 When choosing wallcovering primers, you'll first need to understand their properties. Some primers work best in specific situations and for particular surfaces.
These are the most common surfaces for wallpaper projects:
Bare Drywall
Bare drywall has a lot of porosity, meaning you need a reliable wallcovering primer to even the porosity of the surface before hanging your wallpaper. For this situation, the best option is ROMAN PRO-977 Ultra Prime, although you can also choose the PRO-999 if you prefer a non-pigmented option.
Plaster Walls
ROMAN wallcovering primers like the PRO-977 and the PRO-999 are excellent for priming most modern plaster walls. However, due to the composition and properties of older plaster walls, we recommend performing a test application first.
Painted Walls
When it comes to painted walls, there's no better option than ROMAN's PRO-909 and the PRO-977. These two primers are made to improve the adherence of your wallpaper while protecting the painted layers and walls.
Here are some other situations where you can use our primers:
Sealed Walls
For sealed surfaces like glass, tile, and paneling, the best wall primer is PRO-935. This glass and tile primer is formulated to promote adhesion on the most difficult surfaces.
Damaged Walls
The best wall primer for torn drywall or walls patched with joint compound is PRO-999. It's formulated to seal porous surfaces and prevent them from bubbling or lifting when painted or top-coated with joint compound.
Choose the Right Primer for Your Wallcovering Project with ROMAN Products
At ROMAN Products, we know how important it is to have the right equipment and materials for your projects. That's why we are committed to providing only the best products for wallpaper hanging and removal.
If you'd like to know more about our services and wallpaper products, call us at 708-891-0770 or look through our website!