Preparing for a wallcovering installation includes selecting the right primer and adhesive, but what often gets overlooked during this process is the value of sustainable and eco-friendly materials. Some products used for wallpaper installation, like solvent-based primers, can emit harmful VOCs that may pose a health risk to people in the application area. These risks can include:
Respiratory problems – Certain primers and adhesives may release high levels of volatile organic compounds (VOCs) into the air, such as formaldehyde, toluene, and benzene, and cause respiratory issues.
Eye and throat irritation – VOCs emitted by non-eco-friendly products can cause redness, itching, watering of the eyes, sore throat, and hoarseness.
Headaches and dizziness – The strong odors and fumes released by non-eco-friendly primers and adhesives can contribute to headaches, migraines, and dizziness.
Fortunately, it's possible these days to purchase environmentally friendly wallpaper products that have been made without these potentially harmful substances, yet can still provide the high level of performance that today's contractors demand. ROMAN Products is among those manufacturers dedicated to creating these kinds of eco-friendly wallpaper pastes and related accessories.
We work to offer a full line of products that are formulated to limit VOC emissions and reduce our environmental impact. Our ECO line of adhesives and primers go beyond the basics to comply with multiple green building standards, helping to create a safer and more sustainable installation.
It's also worth pointing out that the use of sustainable wallcovering accessories is, increasingly, required or strongly encouraged to maintain compliance with various industry standards. The trend toward mandating green products will likely continue to gain momentum in the coming years. By opting for non-toxic wallpaper glue and primers, you ensure compliance with these regulations and contribute to the overall effort of reducing the environmental impact of the construction and interior design industries.
The ECO Line from ROMAN Products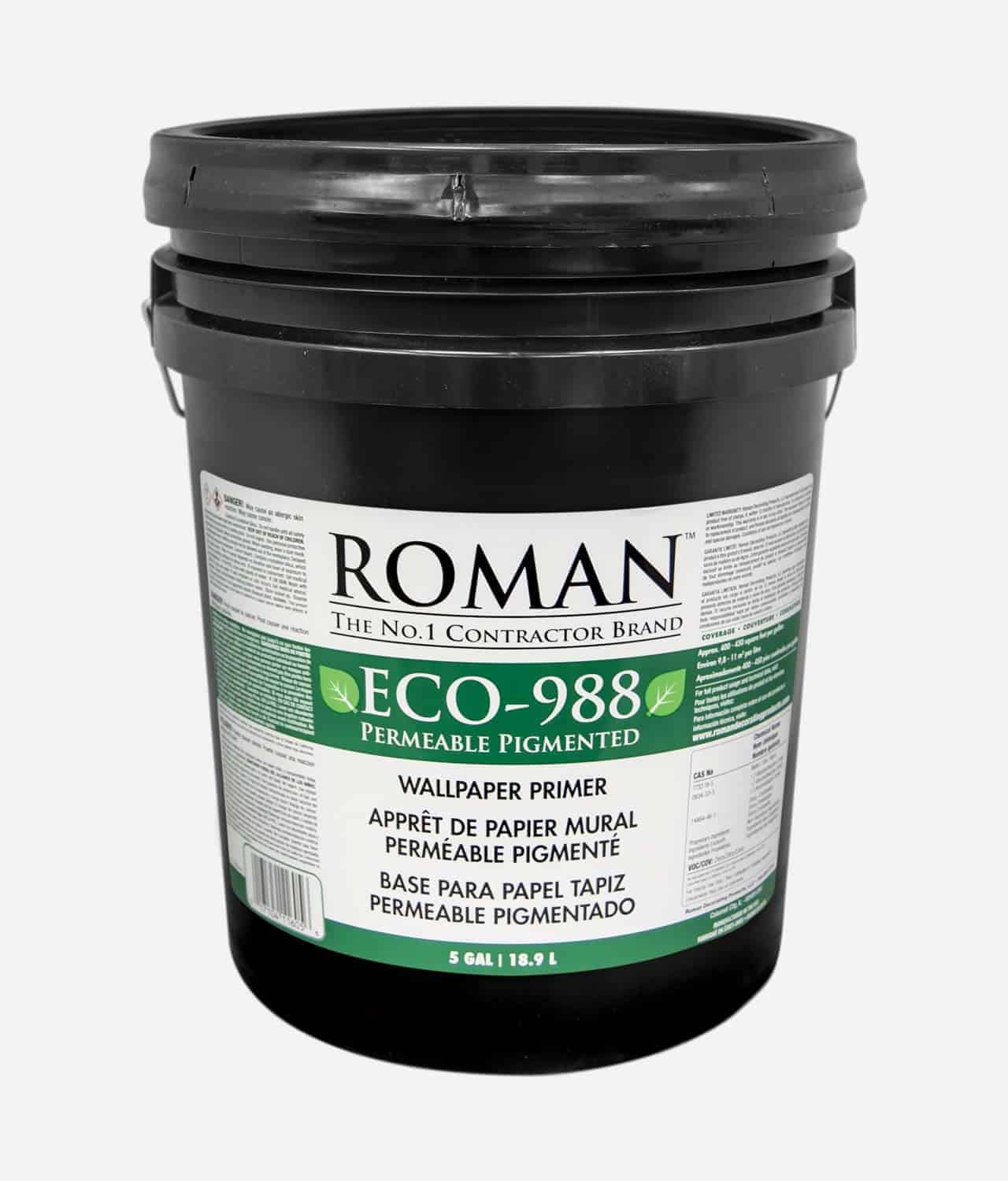 ROMAN has created a line of primers and adhesives that have been designed to comply with a number of building standards widely recognized in the construction sector. At present, the ECO line consists of the following products:
All the above are certified as zero-VOC products, as calculated per EPA Method 24. They're also permeable; that is, they allow water vapor to pass through, thereby reducing the incidence of trapped moisture that can foster the growth of harmful mold or mildew. Products in the ECO line have the following permeability (perm) ratings:
ECO-988 – 5.5 perms
§ ECO-888 – 11 perms
§ ECO-788 – 31 perms
(Higher perm numbers indicate greater permeability.)
Furthermore, the ECO line is compliant with various other environmental standards, such as:
CDPH v1.2 (California Dept. of Public Health)
ROMAN's ECO line complies with the VOC requirements set forth by the CDPH's Standard Method for the Testing and Evaluation of Volatile Organic Chemical Emissions from Indoor Sources Using Environmental Chambers. The Standard Method, which measures a material's emission of 36 listed VOCs, is used by many leading green building codes, including LEED.
LEED
The U.S. Green Building Council's LEED (Leadership in Energy and Environmental Design) certification provides a globally recognized framework for efficient, sustainable green buildings of virtually all types. ROMAN's ECO primers and adhesives comply with the requirements of the Low-Emitting Materials LEED credit that can contribute toward achieving this valuable certification.
USDA BioPreferred Program
Overseen by the U.S. Department of Agriculture (USDA), the BioPreferred Program was created by the 2002 Farm Bill—and reauthorized and expanded as part of the Agriculture Improvement Act of 2018—with the aim of promoting the use of biobased products, i.e., those that are composed, in whole or in part, of biological materials. ROMAN's ECO-788 and ECO-888 are both USDA Biobased Certified Products with 99% biobased content, as verified by lab testing performed to ASTM D866-12 standards.
NSF/ANSI 342 Sustainability Standard
Created by the Wallcoverings Association (WA), NSF/ANSI 342 is the leading standard for evaluating and certifying the sustainability of wallcovering products. ECO-788, ECO-888, and ECO-988 are all compliant with this widely recognized standard.
Living Building Challenge – Red List
The Living Building Challenge (LBC) Red List specifies the materials, chemicals, and elements considered most hazardous to human health as well as the global ecosystem as a whole. Maintained by the International Living Future Institute (ILFI), the Red List includes phthalates, VOCs, formaldehyde, chlorofluorocarbons (CFCs), asbestos compounds, and other dangerous chemicals used in the building products sector. ROMAN's ECO Primer and Adhesives are free of intentionally added Red List chemicals.
ASTM E84 Flame Test
The ASTM E84-23 Standard Test Method for Surface Burning Characteristics of Building Materials is used to analyze the burning behavior of wallcoverings and other products used in the construction industry. Each product is tested for Flame Spread and Smoke Development. ROMAN's ECO-888 and ECO-788 each earned a Class A rating (highest possible) after ASTM E84-23 testing.
ISO 5660-1:2015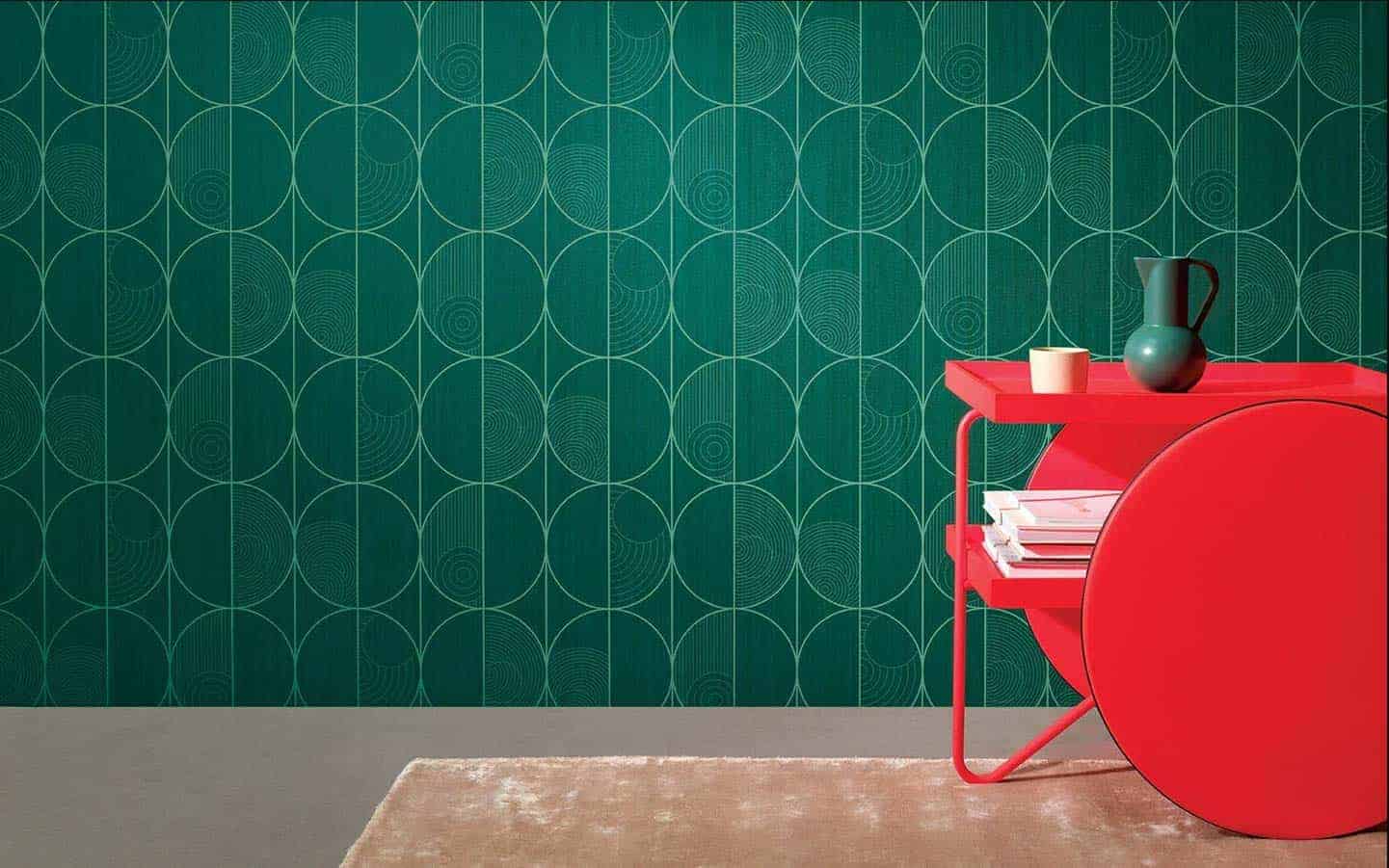 ISO 5660-1:2015 is part of a series of standards developed by the International Organization for Standardization (ISO) to assess the fire behavior of materials and products. It focuses on the heat release rate and smoke production rate of materials exposed to an external igniter under controlled circumstances. ECO-888 & ECO-788 have been tested under this standard (which does not result in a score or ranking; it simply provides data).
Trust ROMAN Products
ROMAN is committed to manufacturing wallcovering accessories that are both highly reliable and eco-positive. For more details, feel free to check out our ECO line of non-toxic wallpaper adhesives and primers.