Wallpaper Removers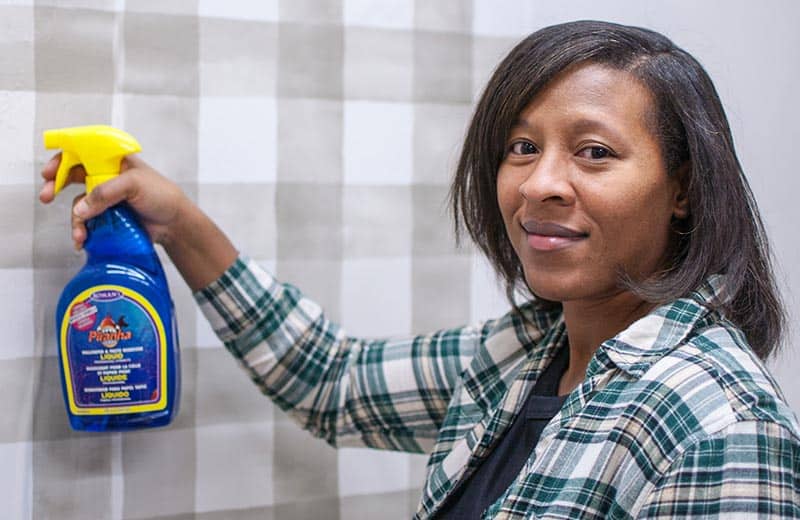 Piranha-Liquid-Spray-In-Use Wallpaper glue removers help make wallcovering removal quick and easy for a simpler redecorating process. Whether you need to remove a border or a whole building full of wallpaper, our premium-grade wallpaper paste removers and wallpaper removal tools are here to help. Using proprietary surfactant formulations, ROMAN Products' wallpaper removers soak in to help break the bond between wallcoverings and walls for a more convenient removal process. 
Wallpaper adhesive removers use specially formulated surfactants to help dissolve adhesives and speed up the wallpaper removal process. There are a few types of products that will help you remove wallcoverings in your home or in commercial spaces. Homeowners and contractors alike love ROMAN wallpaper removers for the ease and convenience they offer for the wallcovering removal process. 
Gel wallpaper glue removers cling to walls to help break up adhesives underneath the surface of wallcoverings. These products evaporate slowly to help reduce the need for re-applications. Simply allow gel wallcovering removers to sit and make removing wallpaper and paste a snap. 
ROMAN Products gel wallpaper removers include:
Liquid and concentrate wallcovering removers allow for quick penetration to help remove wallpaper and wallcoverings easily. Concentrate formulations are perfect for removing large quantities of wallpaper and are an economical choice for contractors and wallcovering removal professionals. Consider using ROMAN wallpaper removers for your next project, such as:
Removing wallpaper glue is easy with ROMAN Products. We are the number one source for wallpaper adhesives, and we offer the best wallpaper remover products on the market. Our special wallpaper removal solutions are designed to help you remove even the strongest wallcoverings and pastes so you can easily redecorate. As the industry-leading provider of wallcovering primers, pastes, and removers, we provide innovative products for DIY-ers and contractors alike. Our goal is to provide you with the high-quality products you need to create the space of your dreams.
How to Remove Wallcoverings
When removing wallcoverings, it's important to keep in mind that different types of wallcoverings may require different steps. However, our wallcovering glue removers help loosen adhesive and glue to assist with the removal process. 
Using a scoring tool, you will need to create small punctures in the wallcovering to allow the wallcovering paste remover to penetrate the wallpaper. Then, spray the wallpaper removal spray of your choice, whether gel or liquid, to saturate the wall where the wallcovering is. Allow the wallpaper adhesive remover to soak for approximately 15 minutes to allow it to break down the wallpaper paste before scraping off wallcoverings or scrubbing leftover paste with a specialty wallpaper removal sponge. 
Once you've fully removed the wallcoverings and residual paste, rinse thoroughly with clean water and allow the wall to dry completely. After your walls are dry, you're ready to install new wallcoverings with ROMAN installation products, from primers to adhesives.
WHY CHOOSE ROMAN WALLPAPER REMOVERS?
ROMAN Products is the most trusted name in wallpaper removal solutions and adhesives. We've been helping homeowners and contractors make the most of their home improvement and commercial building projects for decades. 
We take a customer-centric approach to our business, with a focus on quality and constant improvement through innovation. Whether you're a professional contractor or a homeowner, we know you need products you can trust. 
Removing wallpaper can be a huge, messy project without the right wallpaper adhesive remover  and wallpaper removal tools. ROMAN not only pioneered the first pre-mixed wallpaper glue products, we also offer the most technologically advanced wallpaper remover solutions in the industry.
ROMAN continues to create innovative, high-performance products for homeowners, contractors, and professional wallpaper installers. We are constantly evolving to meet the needs of our customers. 
Our products are ideal for projects of every scope and size. Whether you are removing a single border or stripping wallpaper throughout a commercial building complex, our commercial-grade wallpaper glue removers are tried and true for helping you remove old wallpaper with ease and achieve better results with less damage.