Wallcovering Primers – Prepping for Wallpaper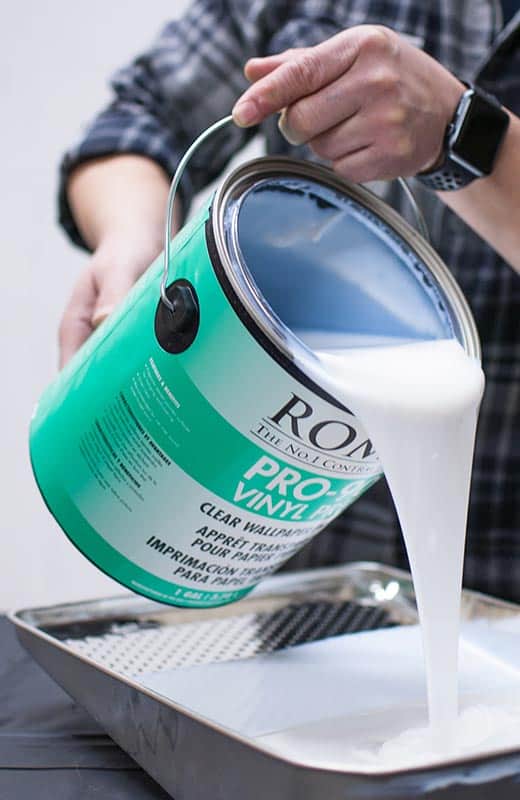 Applying wallpaper primers is a necessary step for any wallcovering installation project. Whether you're installing lightweight wallpaper or heavy commercial wallcoverings, primers help prepare the surface for adhesion. Wallpaper primers can help cut down on air bubbles in your wallcoverings and also make it less likely for your wallpaper to roll or have issues sticking to your surface. Using our premium wallpaper primers can help increase slide to make hanging wallpaper easier and can also improve strippability. Therefore, choose high quality wallpaper primers for your home improvement or commercial decorating needs. 
ROMAN Products creates high performance wallpaper primers for a wide range of uses, including:
PRO-999 Rx 35 Problem-Solving Sealer/Primer: This clear wallcovering primer is perfect for sealing and priming porous surfaces such as torn drywall, drywall mud, spackle, old wallpaper paste residue, contractors flat paint, popcorn ceilings, and medium density fiberboard. Once dry, it provides a slight tack to help improve adhesion of your wallcoverings or paint. 
PRO-977 Ultra Prime Primer: As a universal primer, this pigmented option for your wallcoverings helps create a new white surface for translucent wallcoverings or is tintable for your needs. It also offers extreme water resistance and is perfect for double cutting wallcoverings. Use on new drywall, cured plaster, existing water-based primers, or filling compounds to create the perfect surface for wallcovering installation.
PRO-935 R-35 Adhesion Promoting Wallpaper Primer: If you need wallpaper primers for difficult, non-porous surfaces, this primer is perfect for you and offers permanent tack to help adhesion between surfaces and wallcoverings. Use on ceramic tile, sealed wood paneling, glass, mirrors, and other non-porous surfaces. 
PRO-909 Vinyl Prep Primer: Unlike many other wallpaper primers, this option adheres to drywall surfaces that have been sealed or painted with acrylic or latex to allow for wallcovering installation and adhesion.
ECO-988 Pigmented Wallcovering Primer: Part of our ECO line, this pigmented wallcovering primer is best used in combination with ECO adhesives and is rated for all types and weights of wallcoverings on new, bare drywall. 
As the leading wallcovering adhesive manufacturer and number one trusted contractor brand, ROMAN Products provides high quality formulations for your wallcovering installation needs. Whether you are a homeowner looking to add some DIY décor to your home or are a contractor with large spaces to decorate, choose ROMAN wallpaper primers and adhesives for superior adhesion and ease of installation.
How to Prep for Wallcoverings
Preparing your walls before installing wallcoverings is one of the most important steps for installation success and long-lasting wallpaper. First, you will need to make sure that your walls are structurally sound and free of obstacles like nails. In addition, you should ensure that your surface is smooth as possible, which may require removing old wallpaper, scraping loose paint away, or lightly sanding your walls.
However, the most vital step in preparing to apply wallpaper primer is washing away dirt, grime, and oils. Wipe down the walls with a sponge and bucket of warm water. For particularly dirty surfaces, you may need a mild detergent as well. If you notice mold or mildew stains on your walls, you will need to thoroughly wash the area with a bleach solution to help kill the microbes and prevent further mold or mildew growth underneath your wallcoverings. Once clean, allow your walls to dry thoroughly before applying wallpaper primer with a roller, brush, or spraying system. You must wait for the primer to dry completely for the best results, which typically takes anywhere from three to twelve hours, depending on the wallpaper primer you choose. Once your wallcovering primer is dry, then you can start hanging your wallcovering on your ROMAN primed walls with our state-of-the-art adhesives.