Wallpaper Installation Tools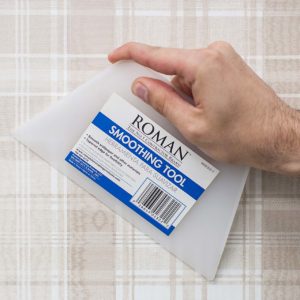 Wallcovering tools help make wallcovering installation and removal quick, easy, and convenient. Whether you're a homeowner or a contractor, our wallpaper installation & removal tools help make the job simple. Designed with ergonomics and durability in mind, wallcovering tools from ROMAN help reduce fatigue when hanging or repairing wallcoverings, whether you're doing one wall or a whole franchise of locations.
Our wallcovering installation & removal tools are designed specifically for wallpaper and other wallcoverings. Therefore, you need never worry about damaging walls, marking your wallcoverings, or tearing your wallpaper when using ROMAN Products wallcovering tools. 
Some of our wallpaper tools for installation include:
ROMAN Wallpaper Seam Roller: The ROMAN Wallpaper seam roller helps you gently lay down and seal seams and edges while installing wallcoverings. 
ROMAN Wallpaper Smoothing Tool

: Our smoothing wallcovering tools from ROMAN Products helps you smooth air bubbles and creases and get in to hard-to-reach corners during installation easily and gently with soft, round edges. 
Time-saving wallcovering tools make installation a snap for beginners and pros alike. As an industry-leading innovator, ROMAN designs installation & removal tools that simplify and streamline the wallcovering installation process. Our long-lasting, durable tools are tried and tested for both do-it-yourself projects and contractor applications alike. As the number one preferred contractor brand in North America, ROMAN is proud to offer you the most effective wallcovering tools for fast, high-quality installation and removal. Shop our wallpaper tools today.
Wallpaper Removal Tools
When it's time to take down do out with the old and in with the new, wallcovering tools help you remove old wallcoverings and residual wallpaper paste so you can redecorate your space. Our wallcovering installation & removal tools are tough enough to help contractors efficiently remove hundreds of wallcoverings, yet gentle enough to leave behind undamaged drywall. Wallcovering professionals and DIY-ers love our wallpaper removal tools because they feature soft handles and ergonomic design, as well as offer you the ability to save time on even the toughest removal jobs. 
ROMAN offers a wide range of wallcovering installation and removal tools, including:
PIRANHA Scoring Tool: The perfect wallcovering tool for perforating thick wallcoverings to allow remover to penetrate and break down adhesive. This tool features a soft, no-slip grip and steel blades that don't dull to help you remove wallcoverings.  
PIRANHA Wallpaper Scraper: The PIRANHA Wallpaper Scraper from ROMAN Products offers a blade pre-set at the optimal angle for removing wallcoverings and paste residue without gouging drywall. The roller feature helps reduce resistance when removing wallcoverings and acts as a wallcovering tool for rolling seams during installation.
PIRANHA Removal Sponge: The removal sponge features two sides for different steps in the removal process. The yellow side allows you to apply remover for ideal saturation while the blue side features a scrubber for removing paste residue. 
For the highest-quality wallcovering installation and removal tools, choose ROMAN for all your decorating needs. Our goal is to provide you with quality products that help you bring your dreams to life and save you time and hassle while hanging and removing wallpaper.